Welcome to The Friday 56, a weekly meme hosted by
Freda's Voice
.

These are the rules:
1. Grab a book, any book.
2. Turn to page 56, or 56% on your eReader.
3. Find any sentence (or a few, just don't spoil it) that grabs you.
5. Add the URL to your post in the link on Freda's most recent Friday 56 post.

I'm also taking part in Book Beginnings, a weekly meme hosted by Rose City Reader. The rules are pretty simple - you share the first sentence or so and your initial thoughts, impressions, or whatever else it inspires. Don't forget to link up your post's url with Rose City Reader.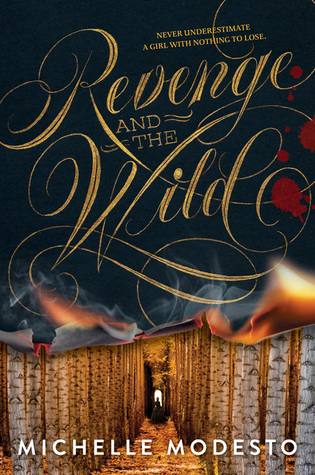 This week I'm spotlighting my upcoming read,
Revenge and the Wild by Michelle Modesto
, a February 2016 debut. I've heard quite a few interesting things about it since it's release, plus I've had my eye on it for several months. It sounds like it will be a cool YA Steampunk Western. In fact, the blurb on the back of the dust jacket by author Gretchen McNeil likens it to "Lovecraft meets
Firefly
" - and that sounds like a good combination to me. I'm giving away my hardcover copy of this book as a part of
Shannon @ It Starts At Midnight's February New Release Giveaway Hop
. If you interested in winning this new book, you can enter my giveaway
here
(US Only).
Book Beginning:
Westie had left the valley at dawn to head home. The sun had risen soon after and followed her throughout the day. By four, it just felt spiteful Though her skin was burned and blistered, she preferred the sun over darkness during her travels. The road between the valley and Rogue City was a long, perilous one with dense woods on either side.
56:
Olive looked at her mother, who was staring curiously at Westie. The little girl frowned and strangled her doll. It was handmade, similar to the dolls Westie's mother used to make her, and had a pink dress with a crisscross pattern all over it. The girl twisted its head until it popped off.