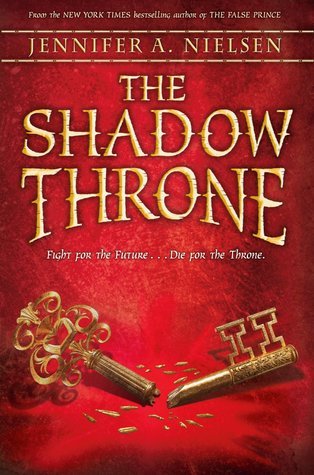 ❋
❋
❋
❋
❋
War has reached Carthya and Jaron has learned that King Vargan of Avenia has kidnapped Imogen in order to bring Jaron's kingdom to it's knees. Jaron knows that he has to make the dangerous rescue attempt in order to save everything he loves - Imogen and his country. As war descends around him, everything that can go wrong does. In the end, these questions remain: Who will survive and who will reign once the war finally ends?
The Shadow Throne
is a fantastic conclusion to
The Ascendance Trilogy
. I'm sad to have reached the end of the series, but I'm so glad to have had the chance to follow Jaron's journey and meet so many fantastic characters that will stick in my memory. This final installment wraps everything up well and successfully includes all of the elements that made me love the series in the first place. I'm looking forward to reading more of Jennifer A. Nielsen's brilliant work, specifically
Mark of the Thief
.
I listened to this audiobook from January 20 - 25, 2016 and my review is also on
Goodreads
.