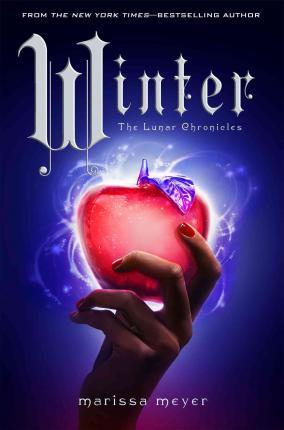 ❋
❋
❋
❋
❋
Princess Winter is admired by the Lunar people for both her kindness, and her stunning yet imperfect beauty which is said to be more breathtaking than that of her stepmother's, Queen Levana. Levana fears her stepdaughter will take control of her throne, her people, and her power and she is willing to do whatever it takes to preserve her reign over the hearts and minds of her people. Winter despises her stepmother and has been attempting to undermine her in her own way, and now she has some new allies - Cinder, Scarlet, and Cress. Together, perhaps they will be able to end Levana's despotic rule once and for all.
Winter
is a fantastic conclusion to the brilliant
Lunar Chronicles
. I have loved following this series every step of the way. I was worried about the finale, but I shouldn't have been because this is a good solid ending to one of my favorite series. I read the novel over the course of just over three weeks - not just because of the sheer size of the novel, but because I wanted to savor every last moment I could with these characters.
In regards to the characters, Winter is a compelling addition to the main cast. She's very sweet with a hearty dose of crazy, and thankfully she is able to hold her own alongside our already established core. Without giving too much away overall, Cinder and Kai steal the ending, Scarlet and Wolf endure the most, Cress and Thorne are still my favorites (everything that comes out of his mouth is golden), and Iko is still awesome. The characters all have a long road ahead of them at the beginning of this novel, and the character development is above average. Everyone has their own time to shine.
As usual, Marissa Meyer incorporates the fairy tale elements to Winter's story. Obviously, we have Levana as the evil stepmother/ evil queen, Jacin as the huntsman, the apple, the glass coffin, and the seven dwarfs All of the key elements that you would expect to be associated with a Snow White retelling have been given a unique sci-fi makeover. We also get a better look at Luna itself and Levana's court, which reminded me of the Capitol from
The Hunger Games
. In the end, my only real issue is the length of the novel. Although, I loved every second of it, it could have been trimmed back a bit in places without hurting the main storylines.
Overall,
Winter
is everything that I could have asked for to wrap up one of my favorite series and there is so much to love about it. I still need to get my hands on
Stars Above
(and the upcoming graphic novels), but I will truly miss these characters when it's all said and done. I'm beyond excited for Marissa Meyer's take on Wonderland in
Heartless
and also superheroes and supervillains in an as yet unnamed new series.
I read this novel from January 29 - February 22, 2016 and my review is also on Goodreads.