Welcome to The Friday 56, a weekly meme hosted by
Freda's Voice
.

These are the rules:
1. Grab a book, any book.
2. Turn to page 56, or 56% on your eReader.
3. Find any sentence (or a few, just don't spoil it) that grabs you.
5. Add the URL to your post in the link on Freda's most recent Friday 56 post.

I'm also taking part in Book Beginnings, a weekly meme hosted by Rose City Reader. The rules are pretty simple - you share the first sentence or so and your initial thoughts, impressions, or whatever else it inspires. Don't forget to link up your post's url with Rose City Reader.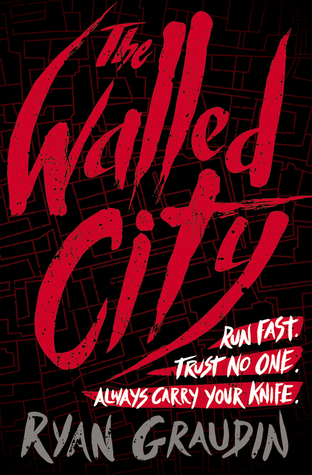 This week I'm spotlighting one of my upcoming reads, The Walled City by Ryan Graudin. I got this one about a year ago, but I've been putting it off so it's high time to get to it. I'm really interested to see how it will turn out because the summary sounds great, yet I've seen quite a few mixed review - for each positive there seems to be a negative or DNF. Either way, I like the sounds of these snippets.
Book Beginning:
Jin Ling
There are three rules of survival in the Walled City: Run fast. Trust no one. Always carry your knife.
Right now, my life depends completely on the first.
Run, run, run
.
Friday 56:
[Dai]
Trust
. The word buzzes funny in my head, like a hangover. I guess that is what I had to do. Trust him to come back. Trust him to spare me Longwai's knife. We'll see if I was right.
Even though my hoodie is thick and almost too warm, I can't help but shiver.