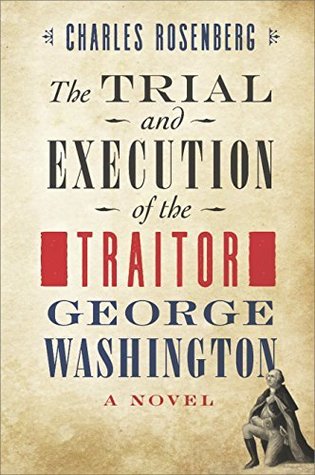 ❋
❋
❋
I received an ARC from NetGalley in exchange for an honest review.
Jeremiah Black, an officer of the King's Guard and British special agent, lands on the beach in late 1780 when the American Revolution is at its height but is currently deadlocked between the two sides. Black's mission is to change the tide of the war by kidnapping George Washington and sneaking him back to London on nearby ship with help from American Loyalists. Some of the Loyalists, though, would prefer to just kill Washington instead of sending him to England to stand trial for high treason.
I can't resist a good alternate history story and
The Trial and Execution of the Traitor George Washington
by Charles Rosenberg certainly presents an intriguing hook. I can't say I've read a "what if" novel where so much of American Revolutionary history as we know it hangs in the balance. This is my first book by this author and I'd say it's a great introduction to his imaginative take on the time period. I also enjoyed his presentation of both countries at war - and due to his writing we feel like we're right in the middle of everything from the moment of his capture through to his trial. As interesting as Black and the rest of the cast are to follow, I was hoping we'd actually get to see a bit of the story through Washington's eyes - whether that came in the form of alternating chapters or just small segments of text where we could get a closer look at Washington than what we had the opportunity to in the end. Even though the author has such a great hook, there are some moments that didn't quite work for me. Some scenes, especially closer to the end, are too dull when you should be riveted to your seat. On a similar note, at times I felt to distantly removed from the cast and events to be fully invested throughout the novel.
Overall, if you're in the market for a creative and believable alternate history on the American Revolution and the fate of one of America's founders, you ought to look into
The Trial and Execution of the Traitor George Washington
by Charles Rosenberg. It has a brilliant hook that will keep you reading to the very end. You'll have to bear through the slower moments, but it's well worth trying out. I will certainly need to look into more of Rosenberg's work in the future.
Thanks again, NetGalley!
I read this novel from June 23 - 24, 2018 and my review is also on
Goodreads
.
This novel
will be released on June 26th.