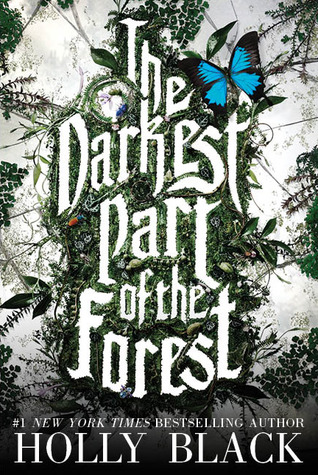 ❋
❋
❋
❋
Hazel and her brother, Ben, live in Fairfold, a town where humans and fae live side-by-side. The faeries' magic attracts tourists, but the citizens of the town know just how dangerous that magic really is, especially Hazel. When they were children, Hazel used to be a knight, and her brother a bard, who fought to stop them when things went too far. In the center of the great woods is a glass coffin where a decidedly non-human boy with horns on his head and ears as sharp as knives has slept for generations. Both Hazel and Ben grew up loving this mysterious figure and making up all kinds of fantastical stories of their adventures together with the horned boy at their side. One day, though, everything changes when the boy awakes and he's not at all what anyone thought.
This is the first book I've read by Holly Black featuring faeries, as I have yet to read
Tithe
. I loved
The Coldest Girl in Coldtown
and
The Curse Workers
(I still have to read
Black Heart
), and
The Darkest Part of the Forest
sounded so intriguing that I knew it was a must read. I can honestly say that I love her style when it comes to faerie tales and she hooked me right from the beginning. She is an expert at creating a world that feels so real despite all the fantastic elements; the combination of the real world and fantasy world is incredibly intriguing. Her characters are flawed and all over the place, but I mean that in the best of ways because it makes them come across as all the more realistic.
I can also appreciate the way the romance elements don't completely dominate the story. The romance is there, but it's not all consuming - just the way I prefer it. The author also turns some of the conventional tropes of the genre on end. I thought I knew how the story was going to go, but thanks to unexpected twists I found myself delighted to be wrong. The only gripe I have is with the ending. While I liked it well enough, I still felt somewhat disappointed. Maybe I just want to see more of Fairfold and They Themselves.
Overall, I greatly enjoyed my first foray into Holly Black's dark faerie tales. Her world-building and character creating skills are stunning and completely enthralling. If you like
The Raven Boys
by Maggie Stiefvater, you will love
The Darkest Part of the Forest
by Holly Black!
I read this book from February 12 - 16, 2015 and my review is also on
Goodreads
.