I can't believe I've been nominated six times for the Liebster Award! Thank you so much,
KayCee K.
! Everyone should definitely go visit her fantastic blog!
Since this is the sixth time I've participated in this award, I believe I will simply answer the questions set to me by my nominating blogger. Here we go:
1. If you could live in any book for a week, what book would it be and why?
Normally, I would say
Harry Potter
, but I think I'm going to go with
Libriomancer by Jim C. Hines
. I would love to have Isaac's ability to magically pull items from books into the real world!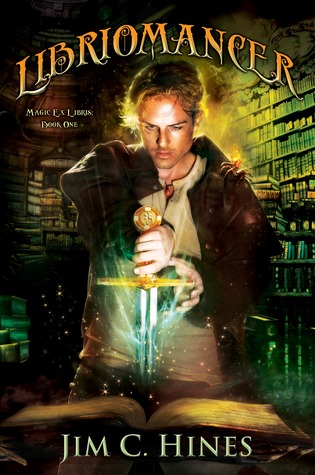 2. Your blogging goal of the year?
I would like to come up with more unique content or come up with a new feature. Still thinking up with ideas for this one.
3. A book you think would make a good movie?
There are so many I want to see adapted for the big screen!
The Iron Druid Chronicles
by Kevin Hearne,
Snow Crash
by Neal Stephenson,
All Our Yesterdays
by Cristin Terrill,
Miss Peregrine's Home for Peculiar Children
by Ransom Riggs,
The Monstrumologist
by Rick Yancey, and
Throne of Glass
by Sarah J. Maas are high on my list.
4. Do you have a favorite bookmaker?
If by bookmaker, you mean author, then yes, I have quite a few but I know I will always love J. K. Rowling!
5. Your "guilty pleasure" book?
I don't know... How about the
Sookie Stackhouse series by Charlaine Harris
? The first eight or so were awesome, but they just went downhill after that.
6. If you could have any mystical or magical artifact what would it be?
A wand, please.
7. Your go to blog/website for book reviews?
Generally, I check Goodreads. I also follow a lot of blogs, so I like checking those as well.
8. What book do you think will be your favorite read this year?
Shutter by Courtney Alameda
and
The Invisible Library by Genevieve Cogman
both sound very promising.
9. What is your must play song right now?
The Walker by Fitz & the Tantrums
10. Your must see movie of 2015?
I have a list:
Jupiter Ascending
,
Kingsmen: The Secret Service, Insurgent
,
Avengers: Age of Ultron, Tomorrowland, Jurassic World
,
Paper Towns, Terminator Genisys, Ant-Man, Victor Frankenstein, Crimson Peak, Spectre, The Hunger Games: Mockingjay - Part 2,
and
Star Wars: Episode VII
11. Favorite social site?
Goodreads
and
Twitter
Thanks again, KayCee K.!!