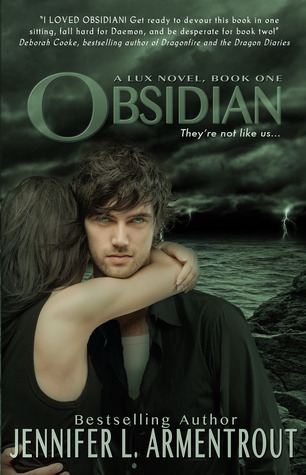 ❋
❋
❋
Just before her senior year, Katy and her mom move from Florida to West Virginia. Needless to say, Katy isn't thrilled by this relocation until she's sees her scorchingly hot neighbor. Then he opens his mouth and he's the most infuriating, arrogant jerk she's ever met in her life. Every time he opens his mouth, she has a strong urge to punch him in the face. You could say that his name, Daemon, really fits him. His sister, Dee, though, is actually quite nice. However, when Katy gets attacked by a stranger something weird happens, Daemon waves his hand and stops time to save her from the attack. Turns out Daemon and his sister are aliens and there is a galaxy of enemies out there wanting to kill them and take their abilities. Since Daemon has used his abilities so near her, now Katy appears to be lit up like a beacon to all aliens - those like Daemon and Dee plus all their enemies. The only way she'll be able to make it out of this alive is if she sticks around Daemon until his mark wears off - if she doesn't kill him first.
I had been wanting to read this novel for awhile. I've seen many good reviews and it has such a high average rating, although, I did take into account the negative reviews. I lucked out and was able to get it for free on Kindle, so that was a point in its favor to begin with.
Obsidian
was a quick, light read with fun moments. The two elements that I got the biggest kick out of were the setting and Katy herself. I was so happy to see that the book is set by Seneca Rocks - I've visited in the past and it's a stunning landmark. I also got a kick out the Point Pleasant and Mothman references. Seriously, if you're ever in Point Pleasant you should stay in
The Historic Lowe Hotel
, explore the beautiful city, get your picture taken by the
Mothman statue
, and maybe even pay a visit to the Mothman Museum (I have yet to do this last one!). I was also pleased by the fact that Katy is a book blogger! I relished in the moments when she talks about updating her blog and reviewing books.
There were aspects I had issues with - primarily, all of the
Twilight
similarities. There were points where I wondered if the author just swapped out the vampires for aliens, but at least Katy is a more likable and relatable (stronger and snarkier) than Bella. However, the more she gets entrenched with the Blacks the worse her decision making skills get. I also don't get the whole bad boy appeal, especially the misunderstood bad boy. Sometimes it can work, if it's done well and if the lust/love isn't played up. This isn't one of those times, but at least there's a a sense of humor and there is a moment where he's not being a colossal jerk because otherwise Daemon and his "relationship" with Katy would have been intolerable.
I can definitely see the appeal here, and it does have its moments, but it's just a little too
Twilight
for my tastes. I may or may not continue the series.
I read this from July 28 - August 8, 2015 and my review is also on
Goodreads
.