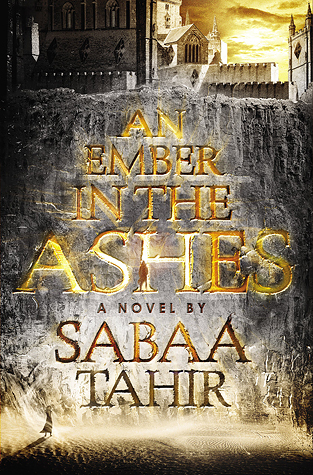 ❋
❋
❋
❋
❋
Defiance and rebellion are met with death in the Martial Empire. Laia lives with her grandparents and older brother. They barely have enough to scrape by, but they do not challenge the status quo of the Empire because they know all too well what happens to those who do. So when Laia's brother gets arrested for treason, she is forced to do the unthinkable. She realizes she has no other choice but to ask a group of rebels for help. They agree to rescue her brother, if she risks her life to act as a spy for them at the Empire's greatest military academy. As for her cover, she's now the personal slave of the brutal Commandant. While there, Laia meets Elias, one of the top soldiers in the academy. As it turns out, he's also the most unwilling. He internally rebels at the tyranny he's being trained to enforce. Soon Laia and Elias will realize that their paths are on a collision course - and the decisions they will make may just affect the future of the Empire.
An Ember in the Ashes
by Sabaa Tahir easily ranks as one of my favorite books of 2015. If you haven't had the chance to check this one out yet, what are you waiting for? To give you some background on my reading experience, I had some time off the other day and decided I'd work on reading this novel. I was already 50 pages into it if that when I started in that day. I sat down and continued the book and I just kept reading. I couldn't stop - it was that good. I just kept going (with a few short little breaks, of course) and I finished it in the same day. Remember, this is a 446 page book. Anyway, it's just that good!
Tahir is one of those authors I'm going to be keeping my eyes on from here on out. She's a truly skilled storyteller. The world-building is top-notch and the character development is stellar. The story is told from dual points of view - Laia and Elias. Each voice is unique and well-developed. I couldn't help but want to root for both of them - Laia truly transforms over the course of the story and its amazing to witness, especially when paired with Elias's moral compass and the compelling internal conflict he struggles against. It's not just our leading characters who are so well-written because the supporting cast is also remarkably developed; Izzi is a real standout.
This Ancient Rome inspired YA novel is quite dark and tackles brutal and cruel issues yet at the same time, it presents a powerful message about the strength of friendship, hope, and determination in dark times. Overall,
An Ember in the Ashes
by Sabaa Tahir is a stunning and lyrical debut - a true must-read. I cannot wait to continue this thrilling adventure.
I read this brilliant novel from August 8 - 10, 2015 and my review is also on
Goodreads
.