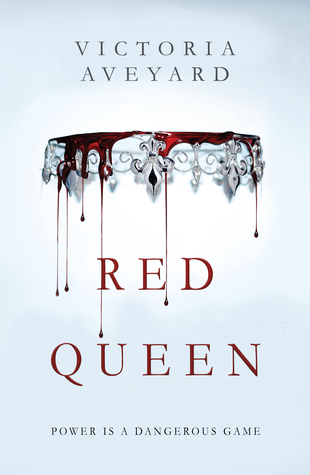 ❋
❋
❋
Mare and her fellow Reds live in terrible hardship and poverty under the ruling Silvers. The Reds (bleed red blood) have no talents or abilities, but the Silvers (bleed silver blood) have superpowers making them superior. Mare's life looks like it will never change until the day she learns she's special. When Mare finds herself working at the Palace for the ruling Silvers, her dormant powers reveal themselves. She possesses a deadly power of her own, one that threatens Silver control, and she finds herself in the middle of a dangerous political power play.
Red Queen
by Victoria Aveyard is a fun, quick read. The writing is good with plenty of humor. The pacing is mostly great and the cast is good. Mare and her love interests are likable enough, too. Thankfully, the romance angle doesn't completely overpower the intrigue, lies, politics, revolution, and superpowers.
While I enjoyed this novel well enough, I was hoping for a little more originality. You could say it's creative in how it remixes and rehashes, but it's not original by a long shot. Essentially,
Red Queen
is
The Hunger Games
multiplied by the
X-Men
. I could not stop comparing Aveyard's debut to these. There are far too many similarities to list. One that really stuck out to me was how Maven and Cal can manipulate fire with the use of bracelets with built in lighters - I couldn't help but think of this:
Overall,
Red Queen
by Victoria Aveyard is a fun debut, but it relies heavily on already existing stories. Chances are if you enjoyed
The Hunger Games
by Suzanne Collins you'll like Aveyard's first novel too.
I read this book from July 30 - August 2, 2015 and my review is also on
Goodreads
.