Welcome to The Friday 56, a weekly meme hosted by
Freda's Voice
.

These are the rules:
1. Grab a book, any book.
2. Turn to page 56, or 56% on your eReader.
3. Find any sentence (or a few, just don't spoil it) that grabs you.
5. Add the URL to your post in the link on Freda's most recent Friday 56 post.

I'm also taking part in Book Beginnings, a weekly meme hosted by Rose City Reader. The rules are pretty simple - you share the first sentence or so and your initial thoughts, impressions, or whatever else it inspires. Don't forget to link up your post's url with Rose City Reader.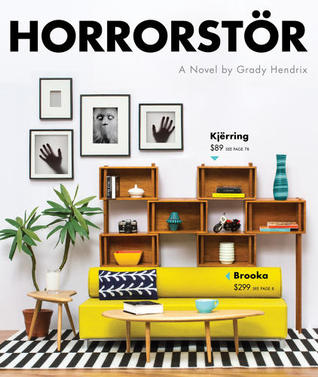 This week I'm spotlighting an upcoming read, Horrorstör by Grady Hendrix, Illustrated by Michael Rogalski. I picked up this novel for Christmas and it looks like a really interesting ghost story with a sense of humor, and it's designed to look like a store catalogue. Also Orsk (an IKEA-like store) is located in Cleveland, Ohio! I'm sharing a photo of the first pages to give you an idea of the set up for each chapter.
Book Beginning:
56:
"What's that noise?" Ruth Anne asked.
"Ergh!" Amy said, jerking back.
A plump black rat slithered bonelessly out of the drain. It scrabbled against the side of the sink and then its claws found purchase and it heaved itself up onto the counter. Ruth Anne clapped her hand over her mouth.
"What do we do?" Amy asked.
Both watched in horror as the rat waddled along the counter and then squeezed into the narrow gap between the refrigerator and the wall. They heard it slide down the drywall and plop onto the floor.