Happy Tuesday everyone and welcome back to Top Ten Tuesday, a weekly meme hosted by
The Broke and the Bookish
. The theme this week is Books I Really Love But Feel Like I Haven't Talked About In A While. The titles in my list are in no particular order, but some of them have come into my life more recently than others. Three of them have linked reviews that appeared on Goodreads and/ or here on my blog. Those that do not have linked reviews are linked up with the respective Goodreads page.
Doubt (Among Us Trilogy #1) by Anne-Rae Vasquez
- I've read the first two books in this series which are both absolutely amazing, and I currently have the honor of assisting Anne-Rae Vasquez beta read the final book in the trilogy (as I also did with the second book). Think
Daughter of Smoke and Bone
by Laini Taylor +
City of Bones
by Cassandra Clare +
Fringe
+
Medium
+
Supernatural
.
Half My Facebook Friends Are Ferrets by J.A. Buckle
- This was a real hidden gem! If you like Ryan Dean from
Winger
by Andrew Smith, you'll want to meet Josh from
Half My Facebook Friends Are Ferrets
.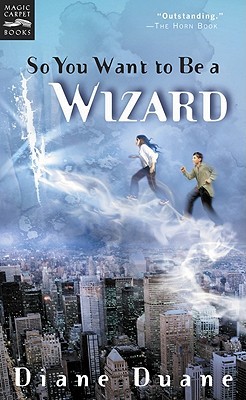 So You Want to Be a Wizard (Young Wizards #1) by Diane Duane
- I'm a huge fan of this entire series actually (well, all except the two most recent which I still have yet to read). If you like
Harry Potter
, you'll probably enjoy this series - although it is quite different and has a very different tone and takes place in an urban setting, and there isn't a magic school exactly... Just try it!
Through Wolf's Eyes (Firekeeper Saga #1) by Jane Lindskold
- This series is another favorite (again, I still need to read the final book). If you like epic fantasy with plenty of intrigue you'll probably like it, too. Also I should mention that the main character was literally raised by wolves, and may be the lost princess.
Leave Her to Heaven by Ben Ames Williams
- I just happened to stumble upon this noir originally published in 1944 and absolutely loved it - the main character, Ellen, reminds me a little of Phyllis from
Double Indemnity
. And, there is a movie adaptation from 1945 (which is in Technicolor - pretty uncommon for noir, but the pop of color just adds to it) and it's pretty good, too. The adaptation stars Gene Tierney and Richard Cornell, and it features Vincent Price (sans mustache).
He looks so young without the mustache - and a little less crazy!
The Wayfarer Redemption (The Wayfarer Redemption #1) by Sara Douglass
- This whole series is another one of my favorites (all six books!) and it's well worth picking up! I really should reread them again one day!
Divided We Fall (Divided We Fall #1) by Trent Reedy
- Do you like dystopia? How about pre-dystopia set in the very near future?
The Last Hot Time by John M. Ford
- This standalone noirish urban fantasy is as good as it sounds!
Full Blooded (Jessica McClain #1) by Amanda Carlson
- Really cool urban fantasy series opener featuring werewolves and shifters and an awesome leading lady! I can't wait to read more of this series either!
All Seeing Eye by Rob Thurman
- If you like Rob Thurman, you absolutely have to try her first mainstream supernatural thriller! I really want to see more of Jackson Lee, although that probably won't be happening.
So, what do you think of my list this week? Have you read any of the book I've mentioned? Have I piqued your interest, or do you have any recommendations for me? All comments are appreciated and I try to respond to everyone!