Happy Sunday everyone! It's been a while since I've done a book haul post, so without further ado, here are the physical books that I've picked up within the last couple of months that I plan on reading soon. Except for Shadowhouse Fall, I found all of these at a couple of different local thrift stores and library book sales - I think I got some spectacular deals for all of these books (all of the books below cost me less than $15)!
Apollo 23 (Doctor Who; New Series Adventures #37) by Justin Richards
- This is the first
Doctor Who
book featuring the 11th Doctor and Amy.
Paradox Lost (Doctor Who: New Series Adventures #48) by George Mann
- I can't resist a
Doctor Who
story - and this is the first time I've ever found one of these books let alone two at a thrift store before!
The 100 Year-Old-Man Who Climbed Out of the Window and Disappeared by Jonas Jonasson
- I've heard a lot of good things about this one, and I saw the trailer for the movie adaptation and I thought it looked pretty interesting. I definitely want to try the novel first.
Sandman Slim (Sandman Slim #1) by Richard Kadrey
- I hadn't heard of this urban fantasy until I happened to just stumble upon it, but it sounds like it's going to be absolutely awesome! It sounds like a series I'll love.
The Death and Life of Zebulon Finch series by Daniel Kraus
-
I've couldn't believe my luck when I found a boxed set of both books in this series! Plus, I've been wanting to try more of this author after
Scowler
.
The Silkworm
&
Career of Evil
(Cormoran Strike #2 & #3) by Robert Galbraith (aka JK Rowling)
- I loved book one,
The Cuckoo's Calling
, and I can't wait to try next books in the series. It looked like these two books hadn't even been so much as opened let alone read!
Wink Poppy Midnight by April Genevieve
- I've read a lot of mixed reviews for this, but I'd still like to try it for myself. Plus, just look at that beautiful typography.
Shadohowhouse Fall (Shadowshaper #2) by Daniel Jose Older
(ARC) - I'm so excited to try this one!
Book one
's a very unique YA urban fantasy and I can't wait to see where it goes from there. Thanks very much to Goodreads Giveaways!
The Doll by Josh Webster
- Totally giving me
Twilight Zone
vibes - and it was freebie!
Death-Doctor by J.N. Williamson
- Actually the third book in a series, but it was also a freebie and it features vampires and demon babies.
Fletch by Gregory McDonald
- I had no clue that that movie was based on a book - definitely interested in how it compares.
Frozen by Melissa De La Cruz & Michael Johnston
- I've been meaning to try this out for ages and it sounds like it has a lot of potential.
Lost in a Good Book by Jasper Fforde
- I loved book one and I can't wait to start in on book two of the
Thursday Next
series!
Inherent Vice by Thomas Pynchon
- I'e been recommended this one so many times, so I'll definitely have to give this one a shot too.
The Kiss of Deception by Mary E. Pearson
- I've heard a lot of wonderful things about this as well and and I thought I'd try it out as well.
Symptoms of Being Human by Jeff Garvin
- I can't wait to get to this after hearing all about this 2016 release.
How to Build a Girl by Caitlin Moran
- I can't pass up a book that's described as
The Bell Jar
told by Rizzo from
Grease
!
The Verneys: A True Story of Love, War, and Madness in Seventeenth Century England by Adrian Tinniswood
- This sounds like it's going to be an absolutely fascinating history of three generations of this family - the family has the largest and most complete collection of private correspondence in the world that covers approximately 400 years worth of history.
Mythology: Tales of Ancient Civilizations by Timothy R. Roberts, Morgan J. Roberts, and Brian P. Katz
- This book is huge, has plenty of accompanying photos and artwork to go with it, and it features Greek, Roman, Norse, Celtic, Indian, Chinese, and Japanese mythology!
❋
❋
❋
This past Wednesday I had the opportunity to see
Kingsman: The Golden Circle
at the movie theater after work. I was really looking forward to it since I loved
Kingsman: The Secret Service
so much. The sequel while fun, didn't quite live up to all of my expectations. I don't want to give away too much of the plot, but essentially the Kingsman, after suffering a deadly attack, come face-to-face with their American counterparts, Statesman. The two agencies are going to have to work together if they want to take down the drug-dealing, Martha Stewart-esque villain and save the world. Like before, the action is just as crazy, inventive, and sleekly stylized. The movie really ratchets up the action in the first few minutes - one of the rejected Kingsman candidate's is back and he's had an quite an upgrade. I also really liked how they reintroduced Colin Firth - always good to see him, it's still odd to see him in such an action packed role but he does a great job of it. Taron Egerton also does a fantastic job of leading the film as well alongside so many other talented actors. Unfortunately, as fun as the movie is, it feels too overlong and convoluted. I was also hoping for more of Kingsman agent Roxy and Channing Tatum's Statesman agent Tequila. He doesn't get nearly enough screen time for someone who's got such a high billing. On that note, I have to mention that Pedro Pascal's Agent Whiskey - as cool as he is with his lasso and whip - comes across like a sloppy filler for Channing Tatum's character (which sounds like it was kind of the case due to Tatum's scheduling issues). Finally, I would have also liked to have seen much more of Mark Strong's Merlin in the field - he gets a few great moments but not nearly enough, but he does play very well with Halle Berry's Statesman tech agent. Overall,
Kingsman: The Golden Circle
is a ton of crazy fun and looks absolutely awesome on the big screen. I had a few issues with it, but it's still worth it to see it at the theater.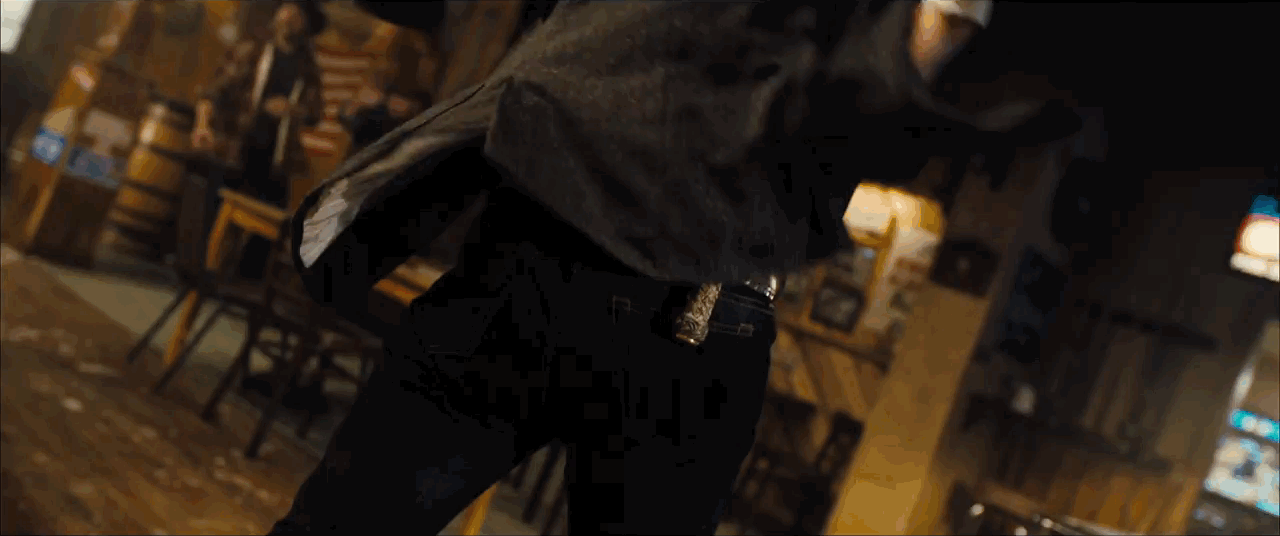 Theater Notes:
When I bought my ticket for the movie, one of the cashier's coworkers had come up behind the counter to pick up some items reminded him to check my ID "since it is an R-rated movie afterall". I've bought R-rated movie tickets from the cashier who looks to be around my age before (the coworker's definitely younger - maybe 20 or 21 at the most). As he's getting my change (and looking kind of exasperated by his coworker), she checks my ID and she appeared very surprised not to see a vertical 21 and under license! Just so you know, I've been able to see R-rated movies by myself at the theater for the last 11 years. By the way, the people who were right behind me in line were seeing the same movie - they were around my age, too, and they didn't get carded by the cashier or his coworker! I've been told that I'll appreciate this more when I'm older, but come on!
There were probably 10-15 others in the theater also seeing the same showing of the movie as me, so luckily I managed to stake out my favorite seat. There were a ton of trailers before hand, including
The Foreigner
,
The Commuter
,
Suburbicon
, and
Jumangi: Welcome to the Jungle
- all of look like they have plenty of potential. I'm totally excited to see a new Jackie Chan movie (
The Foreigner
)!
Movies I Want To See Next At The Theater:
Have a great weekend everyone! What books have you bought lately? Have you read any of the books I've picked up - or have any recommendations for me? Are you planning on seeing
Kingsman: The Golden Circle
? What movies do you want to see next? As always thanks for visiting my blog and perhaps even commenting down below!