Happy Friday everyone! This year I've decided to take part in
Devour Your TBR which is hosted by Kathy @ Books and Munches and destiny
. Each month the Goodreads Group for the challenge dedicated to knocking out our ever growing TBRs comes up with a themed challenge. For February the theme was
Fantastic February
and I selected eight books which you can see in the photo above. Keep reading to see my thoughts on the four books I completed for February's challenge in the order that I read them, and also my potential TBR for
Monstrous March
(all about creepy books, thrillers, horrors, and spooky reads).
❋
❋
❋
❋
❋
Trail of Lighting
(
The Sixth World
#1) by Rebecca Roanhorse was absolutely amazing! Why did I put it off for so long?! It's easily taken its place as a favorite read of 2019. I loved getting to know all of Roanhorse's complex characters. Maggie is hands down one of my favorite leads without question - I have to appreciate her honesty, smarts, and her special set of skills. As fantastic as all of the characters are here, the world-building is stunningly refreshing (I just wish I was more familiar with Navajo language, pronunciation, culture, and traditions). This is the first Navajo post-apocalyptic urban fantasy that I've ever read and I have to say that I need more. I'm dying for book two,
Storm of Locusts
. I could go on and on about this, but just do yourself a favor and jump right in!
I read
Trail of Lighting
from February 2 - 21, 2019 and my review is also on
Goodreads
.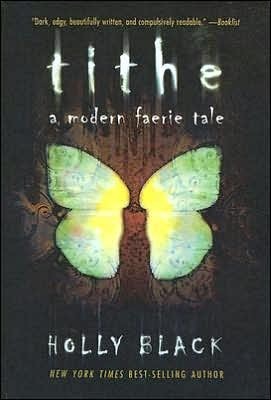 ❋
❋
❋
I love Holly Black's take on faeries and their world. That being said this is probably my least favorite that I've read from her, but also her oldest and it's wonderful to see how much she's grown as a writer. My main issue with with this particular novel is the lead. I wasn't all that interested in her, but Roiben is pretty cool. I will definitely need to continue this series very soon.
I read
Tithe
from February 21 - 22, 2019 and my review is also on
Goodreads
.
❋
❋
❋
❋
The Red Plague Affair
(
Bannon & Clare
#2) by Lilith Saintcrow is a great sequel. I quite enjoyed jumping back into this steampunk world and seeing everyone again. It took me a second to remember where the previous one ended and get back into the swing of things, I had so much fun. I'm looking forward to picking up book three,
The Ripper Affair
, in the future. If you like
The Parasol Protectorate
series by Gail Carriger, I have a feeling you'll love
Bannon & Clare
from Lilith Saintcrow.
I read this novel from February 21 - 27, 2019 and my review is also on
Goodreads
.
❋
❋
❋
I picked this up at a thrift store on the premise alone - there's a portal to a Tolkien-esque dimension opens up in Cleveland, Ohio. I always love finding fantasy novels set in Ohio and this sounded like it would be full of potential. Anyway, it starts off well. I particularly enjoyed reading about just how the magic leaching through the portal affects the real world - and those coming from that dimension. I also liked reading about just how inhuman and different all of those creatures and figures are from us. Unfortunately, this story never quite lived up to my hopes. It was a little too dry, the main character Kline Maxwell (his name should be flipped in my opinion) wasn't all that interesting, and the story became too politically convoluted as it went on. I was hoping for something more similar to The Last Hot Time by John M. Ford which was absolutely awesome. Even though I wasn't the biggest fan of
The Dragons of the Cuyahoga
(
Cleveland Portal
#1), I would like to see more of this world and read the sequel,
The Dwarves of Whiskey Island
.
I read this from February 27 - 28, 2019 and my review is also on
Goodreads
.
My Monstrous March TBR:
Pitch Dark by Courtney Alameda
- I absolutely loved
Shutter
and I don't know why I'm putting off this one, but this seems like the perfect time to finally pick it up.
Wax by Gina Damico
- I won this during the last YASH and it sounds quite creepy. I'm getting
House of Wax
(1953) and
A
Bucket of Blood
(1959) vibes, but maybe that's just me.
Bird Box by Josh Malerman
- I've had this on my radar for ages, but now that there's a Netflix movie adaptation I need to read this stat. I need to see what all the hype is about.
Are you taking part in this month's challenge? Have you read any of these books? I'll be starting off March with
Bird Box
and
Suspicious Minds
since I borrowed them from the library. I think I'll have a great reading month! As always, thanks for visiting my blog and perhaps even commenting down below!