Happy Sunday everyone! In August I took part in the
Disney-a-Thon
, a Disney themed month long readathon created by
@izcurrentlyread
and co-hosted by
@natureofpages
,
@TheFranciscoMP
, and
@celebrityreadsh
. I completed the Team Aladdin (with
@izcurrentlyread
as the team leader) challenge and I enjoyed most all of the books I read for the readathon. I earned all 105 points! Yay me! Keep reading to see my thoughts on the books I read for the Disney-a-thon: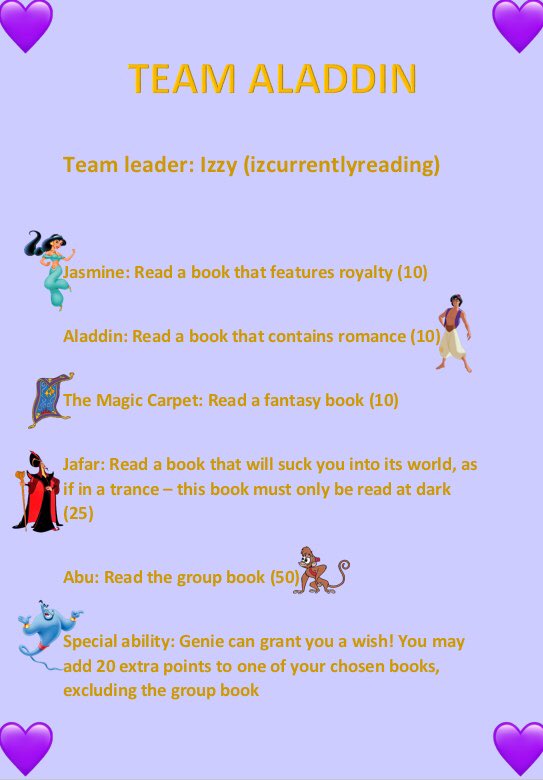 ❋
❋
❋
❋
❋
I don't know how Sarah J. Maas does it, but this series just keeps getting better and better. It's a real roller coaster and I was there for every second. It's one of those books that I just absolutely devoured from beginning to end because it's so addicting I didn't want to put it down. The world-building is great and the characters are so well developed. I've even started to take more of a liking to Manon Blackbeak this time around. As for new characters, I really liked getting to know Lysandra. Overall, I'm beyond excited to read
Empire of Storms
!
Jasmine: Read a book that features royalty (10)
- You can also find my review of
Queen of Shadows (Throne of Glass #4) by Sarah J. Maas
on
Goodreads
.
❋
❋
What the heck kind of ending was that?! Did Helprin just give up or what? You know wht made this marginally more interesting? Skimming it while listening to the
Avengers: Edngame
soundtrack.
Aladdin: Read a book that contains romance (10)
- You can also find my review of
Winter's Tale by Mark Helprin
on
Goodreads
.
❋
❋
❋
❋
❋
Storm of Locusts
by Rebecca Roanhorse is a brilliant follow up to
Trail of Lightning
. It definitely deserves more than just five stars. Maggie is hands down one of my all time favorite characters. Kai pretty great too, as is Ben, a new addition this time around. I'd go so far as to say it's all very metal. I very much agree with the blurb from the New York Times, "Give us at least five [T.V.] seasons of this indigenous monster-hunter and her silver-tongued sidekick." I can't wait to see what happens next!
The Magic Carpet: Read a fantasy book (10)
- You can also find my review of
Storm of Locusts (The Sixth World #2) by Rebecca Roanhorse
on
Goodreads
.
❋
❋
❋
❋
❋
Escaping from Houdini
by Kerri Maniscalco is a brilliant continuation of this YA historical mystery thriller series. I'm thoroughly addicted to the world Maniscalco has created along with her characters. I can't wait for
Capturing the Devil
and I'm excited to see how the author handles H.H. Holmes! Wadsworth and Cresswell are currently one of my favorite couples - they make a marvelous team. If you like this series, I also recommend
Spectacle
by Jodie Lynn Zdrok.
Jafar: Read a book that will suck you into its world, as if in a trance - this book must only be read at dark (25)
- You can also find my review of
Escaping from Houdini (Stalking Jack the Ripper #3) by Kerri Maniscalco
on
Goodreads
.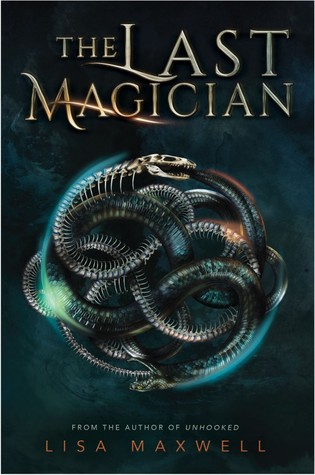 ❋
❋
❋
❋
I'm so glad this underrated gem was selected as the Team Aladdin group book for the Disney-a-thon.
The Last Magician
is quite the doorstop, but it's totally worth diving into if you're interested in historical fantasy and also time travel. Maxwell's world-building is perfectly detailed and the pace moves quickly. I'm not a New Yorker, but this is the kind of book that almost makes me feel like I could be a native of the city. I also loved getting to know her cast of characters. Esta has got to be a new-to-me favorite - she has guts and her confidence and skills are admirable. Overall, I highly recommend
The Last Magician
by Lisa Maxwell. If you're a fan of both
The Diviners
and
Six of Crows
, I expect you will enjoy this as well. This series opener also is a great YA Adult crossover novel as well, so fans of adult fantasy may also love it. I can't wait to continue this series with
The Devil's Thief
!
Abu: Read the group book (50) -
You can also find my review of
The Last Magician by Lisa Maxwell
on
Goodreads
.
Have you read any of these books? Did you take part in this readathon? As always, thanks for visiting my blog and perhaps even commenting down below!