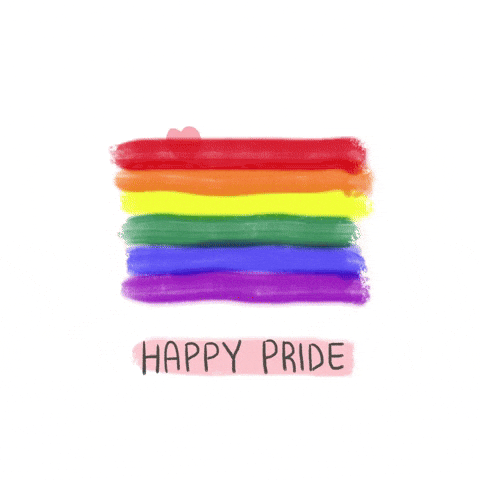 Happy Saturday everyone! As you may know, I've celebrated
Pride Month this year
by tackling some LGBTQIAP books this month. I can't believe it, but I managed to get to all of the books on my potential TBR. Luckily for me, I enjoyed the most of them. Read on to see my mini reviews on my thoughts on the books I read in the order I read them over the course of the month. Don't forget to stick around for my giveaway (US only, sorry) for one lucky winners choice of one of the books I read this June!
It's a powerful and emotional must read and I honestly don't know why I was avoiding it. I should have started in on this author's works years ago, but I'm glad I'm getting caught up now. Even though this book is set in the 1950s it's just as important to read now.
❋
❋
❋
❋
Noteworthy by Riley Redgate
is a YA contemporary that I was really looking forward to since I so enjoyed
Seven Ways We Lie
. Riley Redgate is quickly becoming an author I need to read everything they'll ever write and I need to get caught up with
Final Draft
as soon as possible. I really like the author's voice and writing style and I need more. It's cool to know that she attended a local Ohio college as well.
❋ ❋ ❋ ❋ ❋
If you're at all interested in hidden history, When Brooklyn was Queer by Hugh Ryan is a must read. To be honest, I know very little about Brooklyn in the first place, so most of the details about the borough itself was new to me. Either way, this book is incredibly well researched. I found myself particularly interested in the oldest portions going back as far as the 1850s as well as WWII sections. I was absolutely hooked by the author's style and I need to look into more of his work. This has been one of the most intriguing pieces of nonfiction I've read so far this year.
My review is also on Goodreads and on my blog.
Shadowshaper Legacy (Shadowshaper #3) by Daniel José Older is such a great finale to an entire series that's really been a real underrated gem. It deserves so much more attention than what it's received, especially the second and third books. I honestly can't believe it's all over, but it ended so well. I can't resist Older's urban fantasy style and this YA series has been so much fun to explore. I will say though that I could have listened to this finale on audiobook since that's how I read the previous installments, but unfortunately that format wasn't available to me through my library which is a shame since the production of others was fantastic. Either way, though, I highly recommend this series, if you're looking for a unique and diverse LGBT+ YA fantasy novel. Now I need to finish up this author's adult urban fantasy Bone Street Rumba series with Battle Hill Bolero.
My review is also on Goodreads and my blog.
❋
❋
❋
The Forever Sea (The Forever Sea #1) by Joshua Phillip Johnson is a solid fantasy adventure series opener. It takes a little too long to really get going as the detailed world-building and a generally slow-moving plot bog it down, but it's definitely worth sticking with in the long run for that second half. Overall, the world the author has created is my favorite aspect. The Forever Sea itself is beautifully unique and the magic system is also intriguing. I've seen others compare this to a Studio Ghibli movie and I whole-heartedly agree. I would seriously love to see it as one of their films. Please, Hayao Miyazaki, come out of retirement for this too. By the way, this probably has one of my favorite covers of 2021. I would love to have it as a poster.
My review is also on Goodreads.
❋ ❋ ❋ ❋

War of the Bastards (Royal Bastards #3) by Andrew Shvarts was such a great wrap up to a fun trilogy. I'll miss these characters that's for sure. I loved just how contemporary and funny his high fantasy world and the characters that inhabit it are. We got to learn more about the history of Noveris and really liked where that went even if it did go by a little too quickly. If you haven't tried this series yet, I can't recommend these hidden gems enough. I can't wait to try his upcoming LGBT+ YA fantasy, It Ends in Fire.
My review is also on Goodreads and my blog.
❋ ❋ ❋
I was really looking forward to The Unspoken Name (The Serpent Gates #1) by A.K. Larkwood. It sounded like exactly my kind of epic adult fantasy. It was a solid read for sure, but in the end it didn't quite manage to stand out. The world-building itself is pretty great, but the characters were kind of lost in the mix for me. I particularly enjoyed that the author combined sci-fi elements into the story. I would love to see that done more often actually. I also have to admit that I've appreciated the pronunciation guide along with that map. I haven't yet decided if I'll continue the series, but I think it's one that could definitely improve with time.
My review is also on Goodreads.
❋
❋
❋
The Smoke Thieves (The Smoke Thieves #1) by Sally Green is a good YA fantasy series opener. I wasn't quite as invested in the characters as I was with her Half Bad trilogy. It's also a bit too long and at points you can really feel it. All that said though I plan on coming back for the sequel because it really has its moments. I'm glad the series is already complete so I won't have to wait.
My review is also on Goodreads.
❋
DNF'd @ pg. 84
I've heard good things about this series opener, There Will Be Darkness (The Age of Darkness #1) by Katy Rose Pool, but as I've read I've realized I'm just not interested enough to read nearly another 400 pages. It just wasn't for me.
My review is also on Goodreads.
❋
❋
❋
Seafire (Seafire #1) by Natalie C. Parker
is a decent YA adventure fantasy. I enjoyed learning about the world the characters inhabit, but I wasn't particularly invested in those characters. Also, I'd like to mention that I like books where you're dropped right into the action in the beginning, but not so much ones where they just end abruptly.
My review is also on Goodreads.
❋
❋
❋
I'll admit it: I was expecting something much different than what I got with Plain Bad Heroines by Emily M. Danforth. Either way, though, it was still definitely worth sticking with and exploring even though its overly long.
My review is also on Goodreads.
❋
❋
❋
❋
I saved The Invisible Life of Addie LaRue by V.E. Schwab, my most anticipated book on my Pride Month 2021 tbr, for my final read of June. I've been putting it off for the simple reason that I didn't want it to end since it's a standalone fantasy. Plus, Schwab is easily one of my favorite authors. I can't resist her writing style and this is no exception as her writing her is as expected totally magical. That said, I wouldn't quite classify this as one of my favorites of hers. I loved the fantasy and historical elements of the novel. The romance was well-done too, but I wouldn't call myself a romantic in the least at all and honestly I think that worked against me a bit. I was busy focusing on other elements instead of the growing romance between Addie and Henry. All that said, I still adored getting to know the two of them. Overall, if you're a fan of V.E. Schwab's work, I can't recommend this novel enough.
My review is also on Goodreads.
And now for the main event: A GIVEAWAY (US Only - Sorry)!
One lucky winner will win a copy
of one of the books I read for Pride Month 2021.
This giveaway will last until Midnight (ET) on Saturday, July 10th, 2021. I will alert the winner via email and they will have 48 hours to respond or I will have to select another winner. Good luck!
a Rafflecopter giveaway
What did you read for Pride Month 2021? Have you read any of these books? What book would you choose if you won? As always, thanks for visiting my blog and perhaps even commenting down below!