Welcome to the Mid-Year Book Freak Out of 2021 everyone! I've been taking part in this since 2015 - if you like you can check out my previous posts from 2015, 2016, 2017, 2018, 2019, and 2020. It's always great to see what everyone else has been reading and enjoying via this tag and I know I'll be adding a lot of books to my already out of control TBR. By the way, this tag was originally created by ReadLikeWildFire and Earl Grey Books. Without further ado, let's get to it:
1. Best book you've read so far in 2021.
2. Best sequel you've read so far in 2021.
3. New release you haven't read yet, but want to.
4. Most anticipated release for the second half of the year.
5. Biggest disappointment.
6. Biggest surprise.
7. Favorite new author (debut or new to you).
Brittney Morris
- I've only read
Slay
so far, but I already know that I need to read everything she cares to write.
8. Newest fictional crush.
I don't have one.
9. Newest favorite character.
Kiera Johnson from
Slay by Brittney Morris
- Seriously, if you've read this book, you'll know exactly what I mean.
10. Book that made you cry.
Just Mercy: A Story of Justice and Redemption by Bryan Stevenson
- I only have respect for this author. This memoir is an absolute must read. I should have read this years ago.
11. Book that made you happy.
The Brothers Cabal (Johannes Cabal #4) by Jonathan L. Howard
- The fourth installment of this five book historical fantasy horror series is my favorite. I loved the rest of them, but Horst totally steals the whole show.
12. Best book to film adaptation?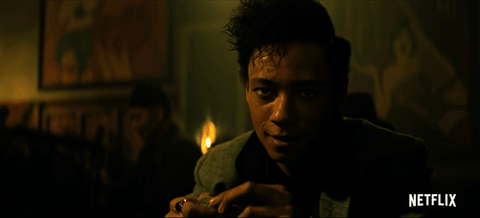 Shadow and Bone
on Netflix - The first season totally lived up to the hype. The whole cast was fantastic and I really enjoyed both the
Shadow and Bone
and the
Six of Crows
prequel storylines. My favorite performance: Kit Young totally nailed his role as Jesper Fahey. I'm dying for season two!
13. Favorite post you have done this year?
It's a hard choice, but I had a good time putting together my March 30th
Top Ten Tuesday: Places In Books I'd Love To Visit
.
14. Most beautiful book you've bought so far this year (or received).
Twilight of Avalon (Twilight of Avalon #1) by Anna Elliott
- The cover is beautiful and this series opener is one of my favorite reads of 2021 so far as well.
15. What books do you need to read by the end of this year?
The Ruthless Lady's Guide to Wizardry by C.M. Waggoner
- I loved Waggoner's
Unnatural Magic
and I need to this asap. I've seen a lot of glowing reviews for this historical fantasy and I can't wait.
What books have you enjoyed so far this year? What are you looking forward to reading the most for the rest of the year? Have you read any of these yet? As always, thanks for visiting my blog and perhaps even commenting down below!