These are the rules:
1. Grab a book, any book.
2. Turn to page 56, or 56% on your eReader.
3. Find any sentence (or a few, just don't spoil it) that grabs you.
5. Add the URL to your post in the link on Freda's most recent Friday 56 post.

I'm also taking part in Book Beginnings, a weekly meme hosted by Rose City Reader.
The rules are pretty simple - you share the first sentence or so and your initial thoughts, impressions, or whatever else it inspires. Don't forget to link up your post's url with Rose City Reader.
This week I'm spotlighting the next buddy read I'm taking part in beginning this Saturday on David Estes Fans and YA Book Lovers Unite! It's called Black City by Elizabeth Richards and it sounds like this dystopian/ post-apocalyptic vampire YA romance has some potential. I've heard quite a few good things about it as well by many fellow readers. Based on the jacket summary and these two snippets, I'm getting a Legend by Marie Lu meets The Coldest Girl in Coldtown by Holly Black vibe and that could be very interesting indeed. And, I manged to get this new at Ollie's Bargain Outlet for $1.99 - you can't beat that!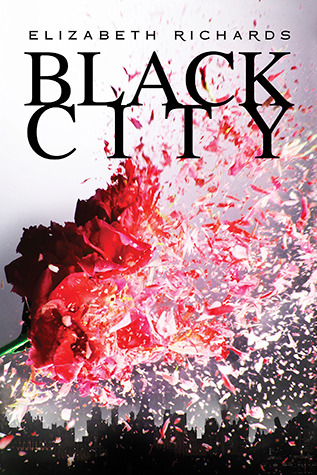 Book Beginning:
An air-raid siren wails in the distance, alerting Black City citizens to lock their doors and turn out the lights. They don't want to be out in the dark alone. They might meet something dangerous. Something like me.
I head under the canal bridge and wait for the girl, taking a packet of Sentry-regulation smokes from my back pocket and sparking up. The nicotine courses through my veins, making them throb with adrenaline; the sensation is almost like a pulse...almost.
56:
"Aren't you going to introduce us?" Beetle asks Day.
She lets out an exasperated sigh. "Natalie, this freak of nature is Matthias."
"Beetle. No one calls me Matthias," he corrects her.
Day turns to me. "And this charmer is Ash."
"Nice coat," I say. "I had a jacket just like that, before some Sentry brat stole it."
"Maybe she didn't steal it? Maybe she found it under a bridge after some lowlife dreg left it behind?" Natalie replies. "Of course, she could just hand it to the Sentry guard. I'm sure they'd be very interested to find its real owner."
I narrow my eyes at her. Just you dare.