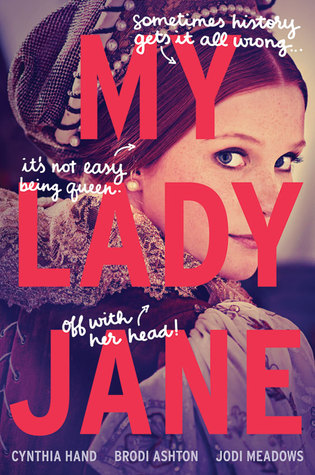 ❋
❋
❋
❋
❋
King Edward is dying which is super inconvenient since he'd much rather think about his first kiss than trying to figure out who's going to succeed him after his death at only sixteen. Bookish Jane is his cousin and she's way more interested in reading than romance. Unfortunately for her, Edward has agreed to marry her off in order to secure the line of succession. There's no denying that there's something a little weird about her intended, Gifford. Gifford, he prefers to be called G, is actually an Eðian (pronouced eth-ee-un). Basically, he involuntarily shapeshifts into a particular animal. In his case, he spends his days galloping around as a noble steed, and then he wakes up at dusk with a mouthful of hay. The indignity of it all! Edward, Jane, and G quickly get wrapped up in a dangerous conspiracy and they'll have to do some conspiring of their own with the fate of the kingdom in their hands. Fingers crossed that they can pull off their plan with their heads still attached.
My Lady Jane
by Cynthia Hand, Brodi Ashton, and Jodi Meadows is so much fun and it has a laugh out loud sense of humor. I expect that this is going to be one of my favorite reads of 2017! This is easily one of my favorite historical fantasy novels - and it actually has a basis in real Tudor history just with a lot of magic and shenanigans thrown into the mix. It fully lives up to the hype surrounding it too and manages to be a real delight. The authorial intrusions are pulled off well and are actually really refreshing in this retelling. They really help to set the tone right from the get go. As much as I loved getting to know our entire cast, my favorite of the main three is easily G. He manages to get some of the best scenes and lines. I also loved Jane bookishness - I could really relate!
Overall,
My Lady Jane
is one of my favorite pieces of revisionist history that I've read in a long time - it's a hilarious breath of fresh air! I don't know if I can wait until next year for
My Plain Jane
and I can't recommend this novel enough! If you love
The Princess Bride
and
Monty Python and the Holy Grail
, I have a feeling that you'll adore
My Lady Jane
.
I read this novel from January 23 - January 28, 2017 and my review is also on
Goodreads
.