Happy Monday everyone and welcome back to Music Monday! Let's share some songs we've been enjoying lately! If you would like to play and I really hope you do, please see the rules and link up below.
Rules:
Every Monday share one or two songs you've been enjoying lately. It doesn't have to be a specific genre, new, or one of your favorites - just something you'd like to share with others. If possible, share a music or lyric video of the song and your thoughts on the song(s), artist(s), and/or music video(s).
If you would like to participate in Music Monday, please join the link up by sharing your post's url.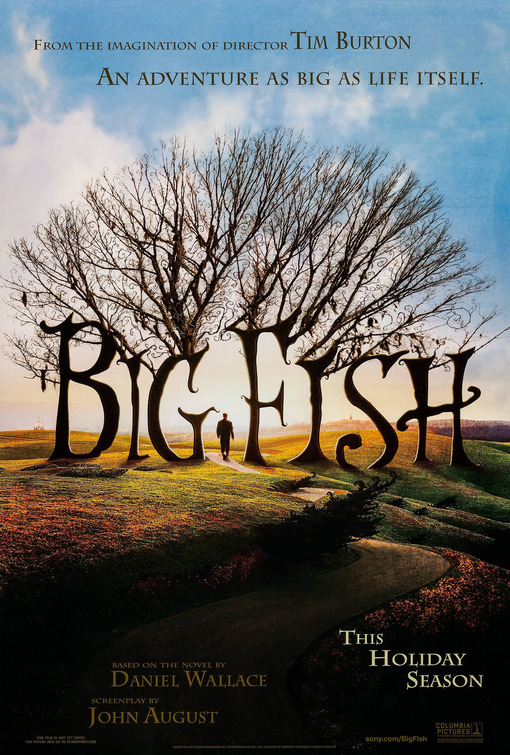 I don't know if I've ever mentioned it, but
Big Fish
(2003) starring Ewan McGregor and directed by Tim Burton is one of my favorite movies. (I know it's based on
a book by Daniel Wallace
, but I haven't read it - yet.) If you like magical realism, fairytales, and fantasy adventure with a dash of comedy, you'll probably enjoy this movie, too. Anyway, I just rewatched the movie for the umpteenth time this past week (and I still get misty eyed at the end), so I thought I would share some of my favorite songs used in the soundtrack. The score itself is wonderful - and, you guessed it, composed by Danny Elfman - but instead of sharing my favorite parts of the score this week, I thought I'd share two of my favorite well-known songs used in the movie.
"Everyday" by Buddy Holly (1959)
- This song appears in the movie just as Edward Bloom is leaving the circus to meet the girl of his dreams at her college. It totally fits Edward, the tone in that section, and even the color palette onscreen. The entire scene as Edward's trying to win Sandra over is one of my favorite parts of the movie.
"Let's Work Together" by Canned Heat (1970)
- This song appears when Edward Bloom just happens to run into Norther Winslow, the poet he first met in Spectre, at a bank in Texas and he suddenly finds himself as Norther's accomplice in a robbery. The scene is probably my second favorite scene in the movie and Steve Buscemi really helps make it. Plus, Edward drives a cool 1966 Dodge Charger.