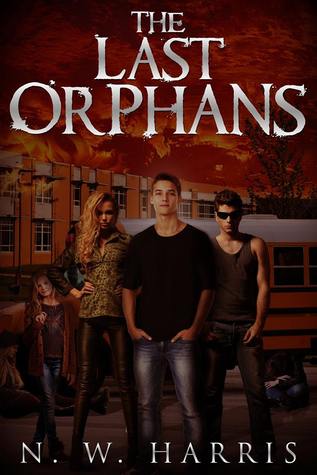 ❋
❋
❋
❋
❋
I received a free e-copy from the author in exchange for an honest review.
Do you like
The Walking Dead
or
Revolution
? If so, then
The Last Orphans
by N.W. Harris may be right up your alley!
Sixteen year-old Shane's life changes dramatically in one horrifying day, right alongside every other under-eighteen-year-old. Within hours the adult population is decimated in a series of freak occurrences, leaving the kids to deal with the aftermath. Shane finds himself in a position of leadership in a band survivors, which includes Kelly, his totally-out-of-his-league crush, her little sister, and many other friends and classmates. Shane's group sets out to figure out why the adults were all slaughtered, and they come to learn they aren't inheriting this new world, but will be the next victims of an unknown weapon. A weapon that won't stop until everyone is dead.
The story Harris weaves in
The Last Orphans
is a well-paced, high-octane thriller that reads like watching a movie play out on the big screen. It's a frighteningly realistic apocalyptic tale of loss and survival. The core cast is incredibly relatable and well-drawn. There are no over-the-top heroics, just people trying to make the most of the hand they've been dealt even if it's the worst day of everyone's life, and they have no clear idea of where to go and what to do. I appreciated the fact that we get to see multiple sides to each character, especially with Shane's internal conflict. For me, Tracy really steals the show. It is refreshing to see a great female character take on what is generally a role reserved for males. Sometimes these kinds of role reversals don't work out, but here it does and it really pays off.
I'm so glad I found this intense action-packed nailbiter and lucked out and was offered the chance to read it in exchange for an honest review. Thanks again, Mr. Harris! I am eagerly awaiting the next book in the series!
I read this from November 6 - 8, 2014 and my review is also available on
Goodreads
.