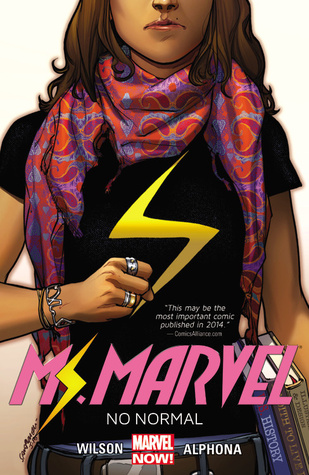 ❋
❋
❋
❋
❋
Ms. Marvel, Vol. 1: No Normal
is the origin story of Kamala Khan, who suddenly finds herself with remarkable powers, as she learns to be herself and stand up for what she believes in. Kamala is a regular teen from Jersey City, but one night after sneaking out to go to a party (which she promptly leaves) she, and the city, is surrounded by a mysterious fog/gas. After passing out, she sees Captain Marvel, Captain America, and Iron Man, and when Captain Marvel asks her what she wants to be, Kamala says she wants to be like her. As it turns out, Kamala is granted a total reboot, but things don't go quite as she would have expected.
In the first volume, Kamala spends a good deal of time trying to figure out her new powers (shape shifting and changing size) and herself. She struggles fitting in with family, school, and religion, not to mention discovering who she really is. As a Muslim teen growing up in America, there are so many stereotypes and ideals surrounding her perception of herself that she's having a difficult time figuring out where she actually stands. The further we go into her story, the more we realize that Ms. Marvel is exactly who she aspires to be, which we can really see with her new shape shifting power. Then again, the longer she works at her abilities the more she learns to use them as a springboard to find real self. I loved the whole story from start to finish, but I would have to say that the above was simply my favorite aspect. Overall, Kamala is a well-written and relatable character. By the way, I should also mention the art. I love the style and the colors, it works well tonally with the story and helps it be even more memorable.
If you haven't already read
Ms. Marvel, Vol. 1: No Normal
, I highly recommend that you do. It should not be missed! I will definitely be reading the next volumes!
I read this graphic novel on March 4, 2015 and my review is also on
Goodreads
.