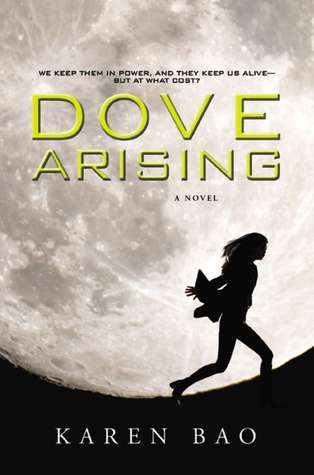 ❋
❋
❋
Actual rating 2.5 rounded up to 3 full stars.
Phaet (pronounced "fate") Theta lives on Moon Base IV and works as a Greenhouse 22 Gardener Assistant. She hasn't spoken much of anything in the nine years since her father died, but she lets her best friend, Umbriel, do most of the talking for her - and like others she stays off the government's radar. Things change after her mother is arrested because the only way for Phaet to keep her younger brother and sister safe is by enlisting in the Militia as the youngest ever trainee at fifteen years old. The Militia polices the the bases and protects them from Earthbound attacks. People have been known to die in the incredibly brutal militia training, but Phaet hopes that if she does well and ranks high she will be able to earn more than she could have in her old position. Luckily, she's warily struck up an alliance with one of the best new recruits, Wes Kappa, an unknown tranfer from Base I. If she can rank high, she can free her mother and save her siblings. That was the plan, anyway, until Phaet's world and everything she thought she knew began to crumble all around her.
The best thing about
Dove Arising
is our main character, Phaet. Her loyalty and dedication to her family is great. We can see how much she cares for them just by her decision to join the militia and undergo potentially killer training in order to earn enough to save her family from ruin. She's a bit different from your average dystopian lead, as she doesn't say much at all. She's a very quiet character, but she still manages to accomplish a good deal and grow quite a bit over the course of the story.
For the most part, we have what we need to know about Phaet's world, but I would have greatly appreciated more information. I would have liked to know more about the war between the Earth and the Moon and other vague or absent details. Generally speaking, though, what we do know is enough in terms of the characters and nature of the story.
My main issue with
Dove Arising
is that the plot is just so familiar and not all that unique. Let's just say that Phaet could have just as easily been a Dauntless initiate alongside Tris from
Divergent
. Add in a pinch of
Ender's Game
and
Legend
for good measure, and you've basically got
Dove Arising
. As much as I enjoyed those stories, I had high hopes for this one, but it can't really hold up under it's own power. Don't get me wrong - it's not bad, but the story has been done so many times before and this one doesn't offer a lot when it comes time to stand out from the crowd.
I read this novel from March 28 - April 2, 2015 and my review is also available on
Goodreads
.