Princesses Behaving Badly: Real Stories from History Without the Fairy-Tale Endings by Linda Rodriguez McRobbie - Review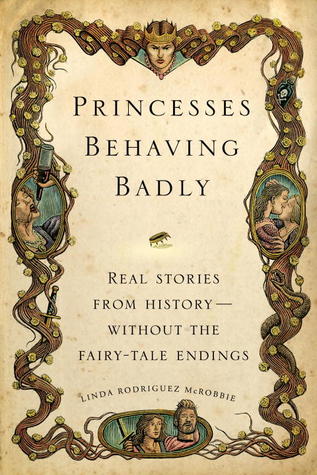 ❋
❋
❋
❋
You know the classic fairy-tales and you've seen the animated movies about princesses being kind and gentle and in the end get their happily ever afters. The short stories featured in this non-fiction book talk about real princesses who broke the mold and didn't live up to those expectations in various ways. Maybe they fought on the battlefield, maybe they schemed their way to the top, or maybe they were flat out lunatics on their quests to power. Regardless, McRobbie's
Princesses Behaving Badly
is a fascinating read for those looking for the parts of history, and the people involved, that are usually left out of the history books or overlooked for some reason or another.
Most of these tales are from the distant past where everyone involved is long dead and the stories take on a near legendary status, but there are a handful here that are much more recent to be within living memory. The author's decision to take a look at the more colorful members of royalty from around the world is definitely a great one letting us know that there's more than Cleopatra and Elizabeth I. My only complaints are the opening introduction which could have been left off entirely and the sometimes gossip magazine tell-all writing style it seemed to turn into, especially when it came to the partiers, floozies, and madwomen sections. Overall, though, this was a very interesting read and I think that several women here should have entire books devoted to their part in history.
I read this book from April 24 - 25, 2015 and my review is also on
Goodreads
.