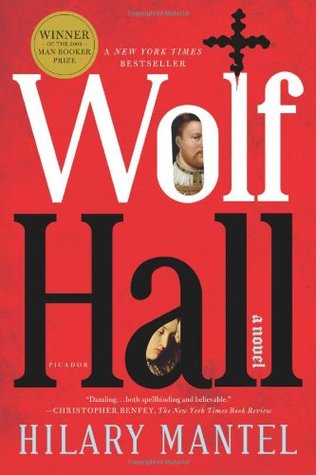 ❋
❋
❋
❋
Wolf Hall
by Hilary Mantel traces Thomas Cromwell's rise to power in Henry VIII's court. Cromwell was essentially a nobody - a son of a blacksmith - who becomes Cardinal Wolsey's aide and a well-known lawyer, and eventually King Henry VIII's most trusted advisor. The story is primarily set between 1527 and 1535 as Cromwell, a proponent of the English Reformation, is working on Henry VIII's divorce from his first wife and union with Anne Boleyn.
This novel is an excellent work of historical fiction, to the point where you can almost forget it's a fictional account. It's thought-provoking, atmospheric, and commands your full attention. The cast of characters is broad, and well known to those knowledgeable on the Tudor court, but she has really succeeded in making Cromwell, often portrayed as a villain, her own and a sympathetic character at that.
Unfortunately, sometimes this novel is a little difficult to follow with the use constant use of "he" instead of names. It's hard to keep track of which character is speaking at any given time. It's also told from an unusual and sometimes jarring point of view.
I'll admit, I bumped this up on my reading list partially because I've been enjoying the PBS Masterpiece miniseries. I loved being able to find the scenes and dialog that appear in the show, sometimes even word-for-word. I don't often say this, but I actually prefer the adaptation. The casting, costuming, sets, direction, and even lighting make it well worth viewing, even if you couldn't get into the dense novel.
I sped through this novel between April 27 - 29, 2015 and my review is also on
Goodreads
.