These are the rules:
1. Grab a book, any book.
2. Turn to page 56, or 56% on your eReader.
3. Find any sentence (or a few, just don't spoil it) that grabs you.
5. Add the URL to your post in the link on Freda's most recent Friday 56 post.

I'm also taking part in Book Beginnings, a weekly meme hosted by Rose City Reader.
The rules are pretty simple - you share the first sentence or so and your initial thoughts, impressions, or whatever else it inspires. Don't forget to link up your post's url with Rose City Reader.
This week I'm spotlighting my current read, A Darker Shade of Magic by V. E. Schwab. I'm just so excited to be reading it - I've had my eyes on it for a long time and it finally came in at the library!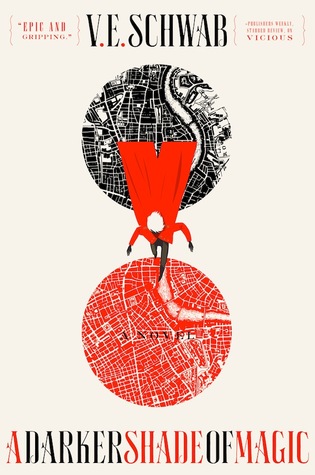 Book Beginning:
Kell wore a very peculiar coat.
It had neither one side, which would be conventional, nor two, which would be unexpected, but several, which was, of course, impossible.
56:
Kell had lived in the palace since he was five. He first noticed the mark when he was twelve. He had spent weeks searching for the rune in the palace libraries. Memory.
He ran his thumb over the scar. Contrary to its name, the symbol wasn't meant to help one remember. It was meant to make one forget.