These are the rules:
1. Grab a book, any book.
2. Turn to page 56, or 56% on your eReader.
3. Find any sentence (or a few, just don't spoil it) that grabs you.
5. Add the URL to your post in the link on Freda's most recent Friday 56 post.

I'm also taking part in Book Beginnings, a weekly meme hosted by Rose City Reader. The rules are pretty simple - you share the first sentence or so and your initial thoughts, impressions, or whatever else it inspires. Don't forget to link up your post's url with Rose City Reader.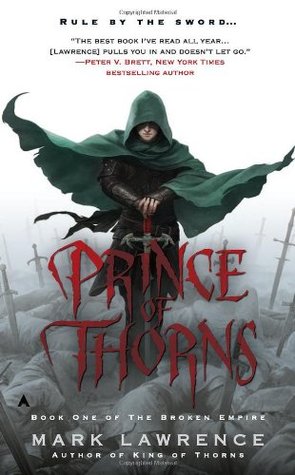 This week I'm spotlighting Prince of Thorns (The Broken Empire #1) by Mark Lawrence. This will be one of my upcoming reads and I'm really excited for it. That and I'm kind of dying for a change of pace, and I must say that this sounds like this will be a good way to do it. I mean, just read those snippets! I'm ready for some blood, devastation, death, war, and horror...maybe there'll be a man who does gardening, or a man who speaks entirely in anagrams (ten points if anyone gets that reference!) to lighten things up.
Book Beginnings:
Ravens! Always the ravens. They settled on the gables of the church even before the injured became the dead.
56:
Knife-work is a dirty business, yet Brother Grumlow is always clean.