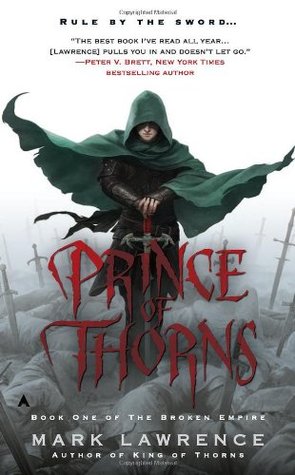 ❋
❋
❋
❋
Jorg Ancrath, once a privileged royal child, now the ruthless leader of brotherhood of thugs, has seen and done terrible things, but one thing still scares him and that's going home to the father who left him for dead four years ago. Going back to his father's castle will force him to relive his horrifying past as he tries to carve out a future for himself with everyone turned against him. And, Jorg has big plans because in two years, when he turns fifteen, he's going to be the King of the empire.
When I purchased this book from the local bookstore, the owner told me I could return it if I didn't like it. She warned me that Jorg makes Joffrey look like a boy scout. Now that I've read the book, I can say I definitely agree with her! Let's just say, Joffrey could learn a thing or two from Jorg.
Jorg is a brutal character to follow, but needless to say he's fascinating to keep up with. I probably should have hated everyone in this story, but they're all so compelling that I couldn't wait to see what they'd get up to next. The action keeps up its break-neck pace from beginning to end and the writing is as razor sharp as Jorg. The only reason I didn't give this a full five stars is that sometimes the blood, devastation, death, war, and horror got a little too exhausting for my tastes and I had to stop to take a breather.
If you like your epic fantasy on the dark and gritty side like
A Game of Thrones
by George R.R. Martin or
Among Thieves
by Douglas Hulick, you'll probably enjoy Mark Lawrence's debut novel,
Prince of Thorns
. I'm looking forward to continuing this series with
King of Thorns
.
I read this novel from September 10 - 13, 2015 and my review is also on
Goodreads
.