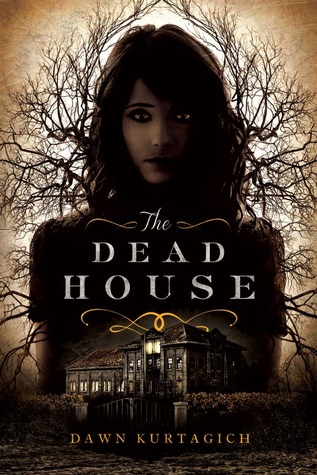 ❋
❋
❋
❋
❋
It's been twenty years since Elmbridge High burned down, killing three and leading to the disappearance of a student named Carly Johnson. The main suspect is Kaitlyn, "the girl of nowhere". Kaitlyn's charred diary was found in ruins and it reveals a sinister version of events leading up to the fire, plus a seriously disturbed mind. Kaitlyn appears to be the center of everything, but some claim she doesn't exist at all and that she is just the alter ego of Carly Johnson. Carly has the days, while Kaitlyn gets the nights.
Dawn Kurtagich's debut novel entitled
The Dead House
is one of my favorite reads of 2015 and I was incredibly lucky to have won my copy through a giveaway hosted by
Teenreads
. This darkly imaginative story is unique, varied, and chaotic. Fortunately, these elements work well in the found footage format and it keeps the reader on the edge of their seat wondering at truth behind the mystery of Kaitlyn and Carly. I particularly enjoyed reading a novel presented in this format. I usually get a kick out of mixed media books and
The Dead House
is no exception. It places us in Kaitlyn's frame of mind well and it also manages to let us see her through others, such as her psychiatrist and friends. The only way this could be better is if there were actual video clips like those referenced in the story. Overall, I greatly enjoyed
The Dead House
by Dawn Kurtagich. This debut is not to be missed by fans of psychological horror, dark mysteries, and found footage tales.
I read this novel from October 9 - 14, 2015 and my review is also on
Goodreads
.