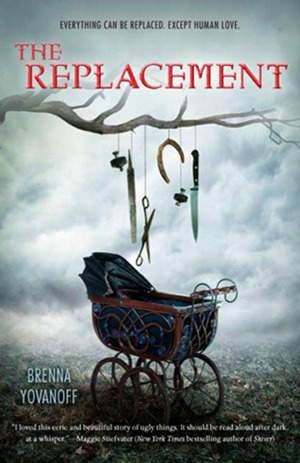 ❋
❋
❋
Mackie Doyle is a Replacement, a Changeling left in a baby's crib sixteen years ago. Usually, Replacements don't live through infancy due to allergies to iron, blood, and consecrated ground, but somehow he did and he's still fighting to survive in the human world. Mackie would give anything to live a normal life, but when his girlfriend's baby sister goes missing he finds himself drawn into his town's dark underworld of magic and mayhem. It's time for Mackie Doyle to take his place in the world as one of us, or one of them.
The Replacement
by Brenna Yovanoff has a lot of potential, but unfortunately not all of it is realized. I liked the eerie and creepy tone of the story and of course seeing how Mackie navigates the world. I was also interested in how the town tries its best not to talk about what they know of the fairy courts. In regards to the characters themselves, my favorites were Roswell and Emma. Those two were definitely people I would actually like to meet. However, I couldn't really connect with our two leads, Mackie and Tate. I must admit, though, that I preferred Tate to Alice, Mackie's initial crush. Overall, while I appreciated the details and aspects of Mackie's story as a changeling and the town of Gentry, the novel was underwhelming and overlong. If you like dark, twisted fairy tales such as those by Holly Black, you may be interested in trying Brenna Yovanoff.
I read this novel from October 14 - 15, 2015 and my review is also on
Goodreads
.