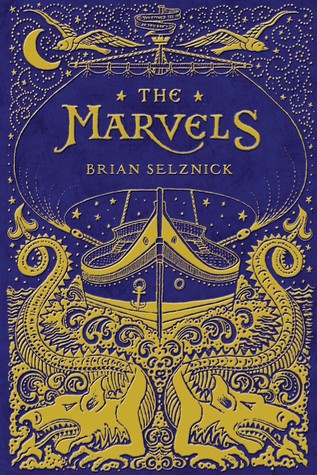 ❋
❋
❋
❋
The Marvels
features what seems to be two completely unrelated stories, one told fully in pictures the other told in text. The first illustrated one begins in 1766 and tells the story of Billy Marvel, a young shipwreck survivor, who begins a family acting dynasty in London that spans five generations. The second in prose opens in 1990 and tells the story of Joseph, a boy who has runaway to an uncle's home in London, who finds himself piecing together multiple mysteries revolving around the house and his family.
As soon as this arrived at the library, I knew I had to read it simply based on how much I enjoyed
The Invention of Hugo Cabret
and
Wonderstruck
. While I particularly enjoyed Selznicks's previous works, I didn't find myself quite as enamored with his latest outing. Like
Wonderstruck
,
The Marvels
is about what seems to be two complete stories that end up coming together in the end to make one cohesive story. Personally, I felt much more of a connection to the first fully illustrated story regarding young Billy Marvel and the generations of family after him. If I've never said it before, Selznick is one of my favorite illustrators; he is able to get so much across with one drawing. While Joseph story written in prose is interesting, I realized I wasn't nearly as invested with it as I was with Billy's. Not to say that I'm not interested in piecing together family history, like Joseph attempts, because I really am. And, I do usually enjoy when a story goes meta, but
(view spoiler)
[I wish it was real because as it is it's a little too much of a cop-out (hide spoiler)]
.
Overall, I enjoyed Brian Selznick's newest brand of graphic novel. It's not my favorite of his, but it is still pretty fantastic. I can't wait to see what he does next and I now want to visit the Dennis Severs House in London.
I read this novel on November 16, 2015 and my review is also on
Goodreads
.