These are the rules:
1. Grab a book, any book.
2. Turn to page 56, or 56% on your eReader.
3. Find any sentence (or a few, just don't spoil it) that grabs you.
5. Add the URL to your post in the link on Freda's most recent Friday 56 post.

I'm also taking part in Book Beginnings, a weekly meme hosted by Rose City Reader. The rules are pretty simple - you share the first sentence or so and your initial thoughts, impressions, or whatever else it inspires. Don't forget to link up your post's url with Rose City Reader.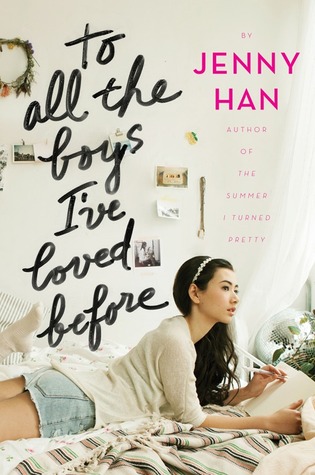 This week I'm spotlighting my next read, To All The Boys I've Loved Before by Jenny Han. Contemporary YA isn't really my genre of choice, but I've heard that this is one to pick up. Maybe it'll surprise me and I'll love it like I did Fangirl by Rainbow Rowell. Based on the snippets I picked out, I am liking the tone and I definitely want to continue. One thing's for sure, this will be be quite the change of pace!
Book Beginning:
I like to save things. Not important things like whales or people or the environment. Silly things. Porcelain bells, the kind you get at souvenir shops. Cookie cutters you'll never use, because who needs a cookie in the shape of a foot? Ribbons for my hair. Love letters. Of all the things I save, I guess you could say my love letters are my most prized possession.
56:
we were all wearing hats, because I insisted. "You have got to wear a hat to a tea party," I kept saying until Margot finally put hers on just so I'd stop. She had on Mommy's straw gardening hat, and Kitty was wearing a tennis visor, ad I'd fancied up an old fur hat of Grandma's by pinning a few plastic flowers on top.