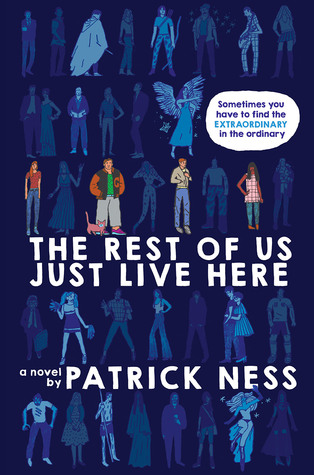 ❋
❋
❋
❋
❋
What if you aren't the Chosen One in a fantasy or adventure story? If you're like Mikey and his friends, you just want to find a date to prom and attend graduation before the indie kids blow up the school, putting a stop to whatever monsters are out there. Again. Sometimes, there are more important things out there than this week's apocalypse. Sometimes you have to be able to find the extraordinary in your ordinary day-to-day life. Even if your best friend is worshiped by cats.
As soon as I heard about
The Rest of Us Just Live Here
by Patrick Ness I knew I had to pick it up. One, because Patrick Ness is one of the best author's out there, and, two, because it's set in a fantasy world where most of the fantastic elements take a back seat. The concept behind this novel is so cool and it hooked me right away. As it turns out, the execution of this concept is as good, or better than I expected. The group of four friends at the heart of the story, make the novel. Each is fully formed, with their own flaws, and entirely feel like they could walk right out of the pages of this novel. Mikey, our narrator, and his best friend, Jared, are my favorites of the group, although Mel and Henna are equally great. Did I mention they're also a pretty diverse group? While I was reading I didn't really notice it so much simply because the writing, as usual with Ness, flows so well and everything comes across as completely natural.
Mikey and his friends deal with very real issues from tough decisions to make regarding life after high school to living with and managing anxiety and OCD, all of which are handled in a thoughtful manner. The story also touches on the fantastic and magical, and I really like how it's done here. For the most part, that's not our core cast's story (although Jared is part god), but I especially enjoyed how the reader is kept apprised of the indie kids situation in one paragraph segments at the beginning of each chapter. We see how what's going on with them and the monsters they fight influence (or not) our core's lives. As a fan of that kind of fantasy, this little touch really makes the story, if you know what I mean.
Overall,
The Rest of Us Just Live Here
by Patrick Ness is a must-read for fans of both fantasy and contemporary, and possibly one of my favorite reads of the year. I'm looking forward to devouring anything Ness cares to write in the future.
I read this book from October 29 - November 4, 2015 and my review is also on
Goodreads
.