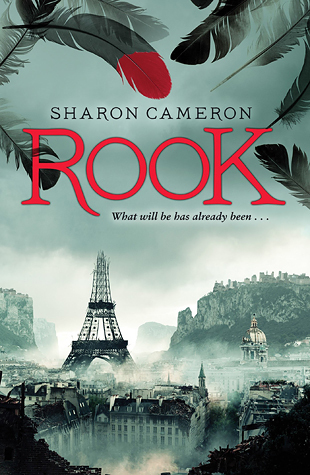 ❋
❋
❋
❋
In the Sunken City (aka Paris), all who oppose the new revolution are put to the Blade. However, some prisoners have been disappearing from their cells with only red-tipped rook feather left in their wake. Some call this mysterious figure, dubbed the Red Rook, a criminal while others say the Red Rook is a savior of the innocent. In the Commonwealth across the sea, Sophia Bellamy's arranged marriage to René Hasard is the only way to stave off her family's financial ruin. As the search for the Red Rook comes ever closer, Sophia begins to realize that her intended is not what he seems, but then again, neither is she.
Rook
by Sharon Cameron is an intriguing retelling of the classic novel
The Scarlet Pimpernel
by Baroness Orczy. Instead of being set during the French Revolution, this dystopian novel is set give or take 800 years in the future after a geomagnetic shift that set the world's survivors back into the dark ages, with a loss of technology and a plague which wiped out a good deal of the population. For the most part, this novel feels like it could very well be set during the French Revolution in the late 18th century. The setting is quite unique and dark, and it shows well how history goes around and comes around - and interesting concept discussed by the characters.
It took me a little while to warm up to the novel because it starts pretty slowly. The good news is that while it has a slow-build up, it has a worthwhile payoff. Sophia, the main character, is a well written tough young lady, not without flaws, of course. The rest of the cast is well-written, too. I especially enjoyed René's character arc and discovering what he was up to along with Sophia. However, I could have done with less of the romance angle of their arranged marriage. I was much more invested in all of the plotting and intrigue. If you enjoy retellings of classic historical fiction and can't resist a good post-apocalyptic dystopian novel,
Rook
by Sharon Cameron is for you.
I read this novel from December 2 - 9, 2015 and my review is also on
Goodreads
.