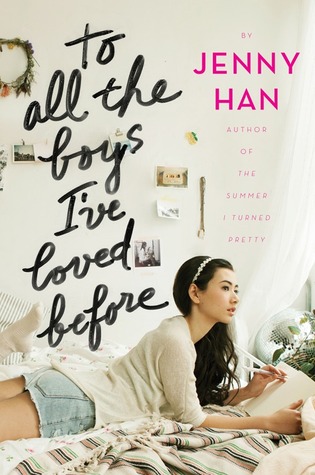 ❋
❋
❋
Lara Jean has saved up love letters she's written to the boys she's loved, but then just before junior year starts she discovers that her letters that were never meant to see the light of day have all been put in the mail. The two letters that concern her most are the ones sent to Peter, her middle school friend, first kiss, and the handsomest boy at school, and Josh, her older sister's ex-boyfriend, their long-time family friend and neighbor. In order to avoid things getting too awkward with Josh since her sister just broke up with him when she left for college, Lara Jean decides to get into a fake relationship with Peter so she can save save face. Luckily, Peter decides to go along with it since he's recently broken up with his girlfriend, Gen, and thinks it will make her jealous to know that he's found another girlfriend so quickly - a girl she used to be good friends with back in middle school at that. Let's just say that things quickly begin to spiral out of Lara Jean's control, especially as she realizes that she actually has feelings for both Peter and Josh.
To All The Boys I've Loved Before
is a cute little contemporary that goes by really fast and doesn't require very much thought. I can see how many readers could would enjoy Lara Jean's personality since she's quirky and her relationship with her sisters is enviable. My favorite sister, though, is her younger sister named Kitty - she's a scene-stealer.
Contemporary romance isn't really my genre of choice, but I recently won this book and I've heard so many great things about it and the author so I though I'd give it a shot. While I liked it well enough, it didn't amaze me. It's actually pretty predictable and Lara Jean's voice took me awhile to warm up to. She's supposed to be a junior in high school, but if I wasn't told that multiple times I would have guessed her for a sixth or seventh grader. Maybe it's all the mommies and daddies or how trusting and naive she is. I guess it works for the cute, quirky, and lives-in-her-head angle, but for the realism factor not so much. I could feel for her, but there were a couple of times I wanted to slap her upside the head because she makes some baffling choices and seems lacking in the common sense department. But, then again, maybe I'm just getting too old for this kind of stuff. By the way, there is technically a love triangle, but I wouldn't really call either that romantic, since she signs up to be used by one and the other is her sister's nice and responsible ex. Honestly, though, the entire story could have been wrapped up in the first 70 pages if Lara Jean had come clean about the mix up.
Overall,
To All The Boys I've Loved Before
by Jenny Han is a fluffy contemporary for you to spend the day with. While I wasn't terribly impressed and found it a little too predictable for my tastes, you may still enjoy it if you're looking for a decent coming-of-age story rather than a romance. However, I don't believe I'm interested enough to continue on to the sequel,
P.S. I Still Love You
, although there is no real ending to first novel.
Moral of this story: Do not seal private letters in addressed envelopes, especially if you never want them to be read.
I read this novel from November 30 - December 2, 2015 and my review is also on
Goodreads
.