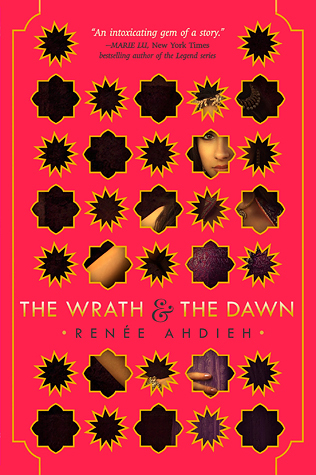 ❋
❋
❋
❋
The Caliph of Khorasan, Khalid, takes a new bride every night only to kill her come dawn. When Shahrzad's best friend falls victim to the caliph, she vows to avenge her friend's death. She volunteers to be the next bride and plans on ending the caliph's reign of terror, all while surviving the ordeal herself. She knows each night could be her last, but she manages to enchant and beguile the caliph by weaving stories that end on a cliffhanger bringing him back for more. Over time, she begins to realize that Khalid is not exactly the monster everyone thinks he is. Unbelievably, she finds herself falling in love with him, the ultimate betrayal of her friend's memory. Either way, she's looking to uncover whatever secrets he, and the palace, still hold. Regardless of her new found love, she must be ready to take Khalid's life in retribution for all of those he has stolen.
The Wrath and the Dawn
by Renee Ahdieh is a retelling inspired by
A Thousand and One Nights
. I haven't read the source material, but I am familiar with some of the more popular tales. Regardless, Ahdieh's debut novel is an enthralling read from beginning to end. Both the concept and her beautiful writing style had me hooked from the outset. Her descriptions are incredibly detailed, yet every single word matters and nothing is overly done. The world-building is topnotch and the Middle Eastern flair woven into the story gives it that extra push to stunning.
Our cast of characters is quite fascinating. Both Shahrzad and Khalid are complex characters. Shahrzad actually reminds me a little of Celaena from
Throne of Glass
. She's very determined, fierce, and willing to put everything she has to give into her plan, however at times she seems a bit uneven. Khalid is a mysterious figure that is not at all what he seems. I wish we had actually been able to see more of his thought-process the more Shahrzad gets to know him.
The romance is actually pretty decent, especially the more we know about Khalid. Considering Shahrzad's initial goal and what she knows, or thinks she knows, about Khalid, makes the entire romance situation a bit uncomfortably complicated, at least for me. Then, we also have a love triangle with Tariq, Shahrzad's friend and first love. He has good intentions in wanting to rescue her, but as he listens less and less as the story goes on he began to grate on my nerves.
Overall, I greatly enjoyed this novel and I highly recommend it if you enjoy brilliantly written historical fantasy. If you like
An Ember in the Ashes
by Sabaa Tahir and
Legacy of Kings
by Eleanor Herman, you will also enjoy
The Wrath and the Dawn
by Renee Ahdieh. I'm very much looking forward to it's sequel,
The Rose and the Dagger
, which is to be released on May 3rd, 2016.
I read this novel from December 17 - 27, 2015 and my review is also on
Goodreads
.