The Friday 56 (With Book Beginnings): The Wrath & The Dawn (The Wrath & The Dawn #1) by Renee Ahdieh
Welcome to The Friday 56, a weekly meme hosted by
Freda's Voice
.

These are the rules:
1. Grab a book, any book.
2. Turn to page 56, or 56% on your eReader.
3. Find any sentence (or a few, just don't spoil it) that grabs you.
5. Add the URL to your post in the link on Freda's most recent Friday 56 post.

I'm also taking part in Book Beginnings, a weekly meme hosted by Rose City Reader. The rules are pretty simple - you share the first sentence or so and your initial thoughts, impressions, or whatever else it inspires. Don't forget to link up your post's url with Rose City Reader.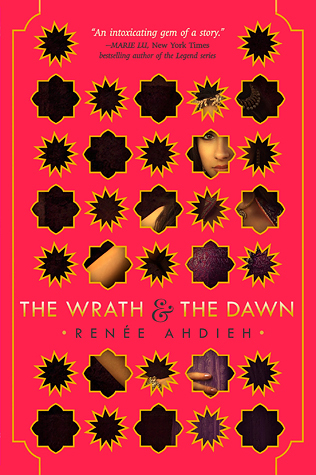 This week I'm spotlighting the book I'm just starting, The Wrath & The Dawn (The Wrath & The Dawn #1) by Renee Ahdieh. I've heard so many amazing things about this novel that I honestly can't say why I've put it off for so long. I can't put into words how excited I am to finally see what everyone's been talking about!
Book Beginning:
It would not be a welcome dawn.
Already the sky told this story, with its sad halo of silver beckoning from beyond the horizon.
56:
"You must know the caliph well," she began.
His amusement faded slightly. "I've known Khalid since he was a little boy."
"Are you good friends?"
"No."
"I see." She drew back the arrow farther and released it. This time, it sailed much closer to its target, but still managed to land buried in the sand.