Happy Mother's Day everyone! Unfortunately, I won't be able to celebrate as much as I'd like to with my family this year as I drew the short straw and have to work. I can't say I'm surprised though... Oh, well. As usual, the last couple of week's have been pretty crazy - I've had so much to do.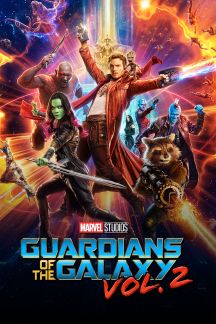 In these last couple of weeks, I actually got to see a couple of movies at the theater -
Guardians of the Galaxy, Vol. 2
and
King Arthur: Legend of the Sword
. I saw
Guardians of the Galaxy, Vol. 2
in 3D and it's definitely worth the splurge - it's just as good as the first movie. It's a solid 4.5 stars, but I'm rounding it up to 5 since it was just so much fun. It's great to see the group together and how they play off of one another - everyone gets their time to shine. By the way, Kurt Russell is pretty darn good as Peter's father and Mantis makes a good new addition to the cast. She is hilarious when paired up with Drax. The dialogue really crackles, but I'd have to say that Yondu has one of the best lines: "I'm Mary Poppins, y'all!" The theater broke up at that!
As for King Arthur: Legend of the Sword, it's not as terrible as some of the reviews make it out to be, but it certainly missed out on a solid opportunity. The idea behind it is pretty cool - how can anyone resist a King Arthur story and good retelling at that? I liked getting to know our new Arthur, played by Charlie Hunnam, but most of what makes the legend has been stripped away. There are points when you see that this could be really something with moments between Arthur and his friends, but unfortunately, the movie gets too lost in the visuals and special effects. They don't so much enhance the story, as they over stuff it. Also, near the end during a major fight scene, I actually felt a little motion sickness when the action got extra difficult to focus - I expect you'll know exactly what I'm talking about if you've seen the movie. Let's just say Arthur suddenly appeared to go from Hunnam to a full on video game character, if that makes any sense, and I'm glad that I wasn't watching in 3D because I'm sure that would have made it worse. Anyway, when I should have cared more about the supporting cast of characters, I couldn't because we knew so little about them - although I must say I wanted to know more. For the most part, I'd say Jude Law seemed to be having the most fun chewing up that scenery. Plus, in the prologue you won't believe who makes a cameo appearance - Katie McGrath, aka Morgana from Merlin! On that note, if you're looking for an excellent retelling of Arthurian legend, you may want to try Merlin rather than this.
Next up: Pirates of the Caribbean: Dead Men Tell No Tales and/ or Wonder Woman.
Happy Mother's Day everyone! As always, thanks for visiting my blog and perhaps even commenting down below.