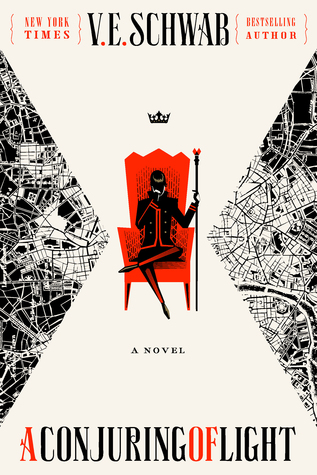 ❋
❋
❋
❋
❋
The balance of power between Red, White, Black, and Grey London is failing. As the once powerful Red London falls to the darkness, it leaves plenty of space for one of the other Londons to rise to the forefront. Kell's convictions begin to waver under pressure, Lila has to learn to control her magic before it bleeds her dry, and Alucard's in a race against the clock to find the impossible. Meanwhile an ancient enemy from Black London returns to claim his crown and a fallen hero tries to save his decaying world.
I know my review will not do
A Conjuring of Light
justice in the least, but honestly I couldn't have asked for a better ending to one of my all time favorite series. If you haven't started in on this series yet what are you waiting for? It's the perfect time to binge read it all since it's now complete. I'm actually sad that it's over and that I don't have another
Shades of Magic
book to look forward to in the future, but like I said it has a truly epic finale and it wraps up in a perfect way. I couldn't have expected less of V.E. Schwab.
The magic, world-building, action, dialog, banter, and sass are as brilliant as I've come to expect, but like usual it's the characters who shine. Kell, Rhy, Lila, Alcard, and Holland, plus the side characters, are all so well written that they could walk right off the page. Kell and Lila are awesome as usual, but I really loved Rhy and and Alucard. We get to know Alucard so much more and we get to see Rhy grow into his destiny as the King of Arnes - and it's heartbreaking, but you have to admit that he gets some really killer scenes. The one character I didn't expect to appreciate so much, though, is Holland - he's the true standout character of the finale. He's very complex and we get an excellent look into his head and his past (you may want to have a couple of tissues at the ready, just in case).
Anyway, I could go on and on about the awesomeness of this series, but don't just take my word for it. If you haven't read it, you
need
this absolutely marvelous series (and wonderful series finale) in your life. As nervous as I am about it, I can't wait to see the film adaptation of
A Darker Shade of Magic
(and hopefully the rest of the series) that's in the works! V.E. Schwab is even going to be a producer on it, so hopefully it'll be done right.
By they way, what do you think of my dream cast for some of the characters?
Kell - Cameron Monaghan or Caleb Landry Jones
Lila - Brianna Hildebrand or Jacqueline Toboni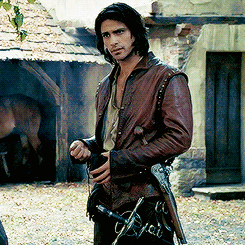 Rhy - Avan Jogia or Luke Pasqualino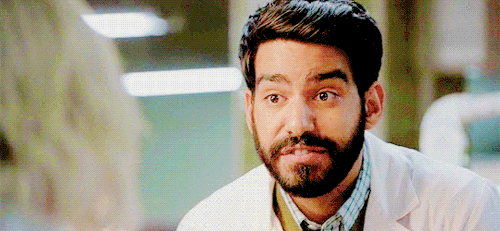 Alucard - Rahul Kohli
Holland - Mads Mikkelsen
I read this novel from March 23 - June 30, 2017 (I just didn't want it to end!) and my review is also on
Goodreads
.