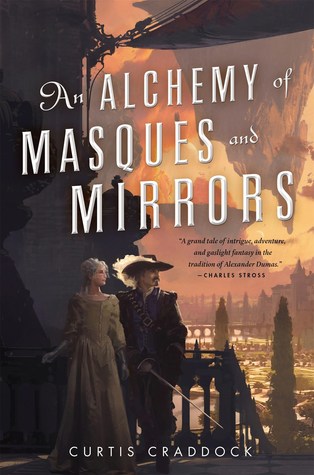 ❋
❋
❋
❋
❋
I received an eARC of this novel from NetGalley
.
Isabelle is despised and neglected by her cruel father because she was born with a deformed hand and without bloodshadow magic. The neglect is fine by her because that means she has more time to follow her passions by illegally studying math and science. Although Isabelle is a princess, she doesn't believe she has any future prospects until an offer of arranged marriage to the Prince of Aragoth opens up her world. Isabelle travels from her home on Isle des Zephyrs in l'Empire Céleste to the Kingdom of Aragoth with Jean-Claude, the King's Own Musketeer who has guarded since birth and is her dearest friend. Isabelle and Jean-Claude quickly learn that the two locales are quite different from one another - for one thing the people of Aragoth don't deal with things by bloodshadow but by glasswalking. The two also find themselves caught up in dangerous intrigue - the prince's previous fiancee was murdered and en route to Aragoth and Isabelle herself is nearly murdered proving that there is a plot against her. If Isabelle and Jean-Claude want to have any chance of survival, they'll need to get to the bottom of this mystery and try to prevent an oncoming war.
An Alchemy of Masques and Mirrors
by Curtis Craddock is an absolutely marvelous read that has easily become one of my favorite books of 2017 so far. There is so much to love about this new release, but the stunning world building, unique magic system, and outstanding characters are what really took my breath away. To begin, the world building is so complex, layered, sprawling, and absolutely immersive that I'd say it rivals the likes of
The Lord of the Rings
,
Harry Potter
,
A Song of Ice and Fire
, and
Shades of Magic
. I could vividly picture the world of the Risen Kingdoms. Essentially, nations are composed of floating islands surrounding a gas giant (like Jupiter) as the remains of a world destroyed long ago, and to travel between nations people sail via airships. On that note, it's clear that the Risen Kingdoms have a long and rich history that I would love to know more about in the future.
The magic system of Isabelle's world is also hooked me right away even though Isabelle herself has no magic. It's been awhile since I've seen one quite so cool that has such a rich history behind it within the novel. I don't want to give too much away, but in their religion only a few types of magic are legally sanctioned for the leading families. Two that play a major part are the ability to cast bloodshadows and to glasswalk. Bloodshadows are blood red, can feed on human life, and can enslave others by turning them into bloodhollows - this ability is particularly frightening, especially considering that the sorcerers controlling the bloodhollows can spy on their enemies using the eyes of those they've magically enslaved. Of the two, though, glasswalking, sounds both cool and convenient - sorcerers who have this ability can travel quickly by moving between mirrors - yet it could also go wrong with very dangerous consequences for the glasswalker.
Finally, I'd like to talk about our two leading characters, Isabelle and Jean-Claude, for both are the heart of the story. Isabelle is incredibly refreshing as a no-nonsense, clever, and curious young lady who has decided to take her education into her own hands when it comes to topics that are off limits to women like math and science. She even publishes scientific papers under a male nom de plume, plus she sneaks equations into her sewing and paintings. To say the least, Isabelle is a woman I could really respect and my respect and appreciation for her just continued to grow over the course of her story. As much as I loved Isabelle, though, Jean-Claude totally steals the show. Jean-Claude is a King's Own Musketeer who is incredibly loyal to Isabelle. He's protected her and been there for her as the father she's never really had since her birth. He's seen some pretty brutal stuff and he's getting a bit older - he's probably in his upper 40s - so he isn't quite what he once was, but he's the kind of person you'd want to have on your side no matter what. He's also very brave and has a cynical wit to boot.
Overall, I can't recommend
An Alchemy of Masques and Mirrors
by Curtis Craddock enough. If you love fantasy with with a steampunk flair, epic world-building and fantastic characters, 17th century French and Spanish history,
The Three Musketeers
, and
Treasure Planet
, I have a feeling you'll love this novel, too. I can't wait to see more of this world!
I read this eARC from August 22 - 28, 2017 and my review is also on
Goodreads
.