On Friday's I take part in three weekly link ups - The Friday 56, hosted by Freda's Voice, Book Beginnings, hosted by Rose City Reader, and 50/50 Friday is a new weekly link up and it is hosted by Carrie @ The Butterfly Reader and Laura @ Blue Eye Books. For The Friday 56, you choose a book, a book you have just finished, a book you are about to start, your current read, and share a line or a few lines that grab you (but don't spoil anything) from page 56 or 56% of the way through the ebook. Post it and share your post's url on Freda's most recent Friday 56 post. As for Book Beginnings, you share the first sentence or so and your initial thoughts, impressions, or whatever else it inspires, and then link up your post's url with Rose City Reader. Then, for 50/50 Friday, every week there's a new topic featuring two sides of the same coin - you share a book that suits each category and link up on the hosts blogs.
This week I'm spotlighting one of my current reads for Book Riot's 2018 Read Harder Challenge, Handling the Undead by John Lindqvist which will fulfill the task to read a book of genre fiction in translation. I've seen middling reviews of the this zombie novel, but I'm still excited to give it a try since Let the Right One In is one of my favorite vampire books.
Beginning:
Sveavagen 13 August 22.49
"Salud, comandante."
56:
The melody was "Eine kleine Nachtmusik" and Mahler started to hum along. A nice little tune of this chaos.
50/50 Friday: Best/ Worst Read In September
Worst -
A Million Little Pieces by James Frey
- Let's just say I'm glad I didn't read this when it was brand new and then found out the truth.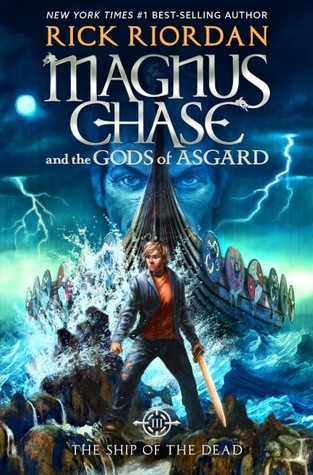 Best -
The Ship of the Dead (Magnus Chase and the Gods of Asgard #3) by Rick Riordan
- This series is absolutely fantastic and the finale was brilliant. I hope we get to see these characters again in the future.
Have you read any of these books? Are you doing Book Riot's Read Harder Challenge? As always, thanks for visiting my blog and perhaps even commenting down below!