Sci-Fi Month 2018 - The Friday 56 (With Book Beginnings): Obsidio (The Illuminae Files #3) by Amie Kaufman & Jay Kristoff + 50/50 Friday
On Friday's I take part in three weekly link ups - The Friday 56, hosted by Freda's Voice, Book Beginnings, hosted by Rose City Reader, and 50/50 Friday is a new weekly link up and it is hosted by Carrie @ The Butterfly Reader and Laura @ Blue Eye Books. For The Friday 56, you choose a book, a book you have just finished, a book you are about to start, your current read, and share a line or a few lines that grab you (but don't spoil anything) from page 56 or 56% of the way through the ebook. Post it and share your post's url on Freda's most recent Friday 56 post. As for Book Beginnings, you share the first sentence or so and your initial thoughts, impressions, or whatever else it inspires, and then link up your post's url with Rose City Reader. Then, for 50/50 Friday, every week there's a new topic featuring two sides of the same coin - you share a book that suits each category and link up on the hosts blogs.
Welcome to Sci-Fi Month 2018! Sci-Fi Month is a month long celebration of all things sci-fi and it's hosted by Imyril @
One More
and Lisa @
Dear Geek Place
(Image credit: Photo by
Greg Rakozy
on
Unsplash
, Quote from
The Long Way to a Small Angry Planet
by Becky Chambers).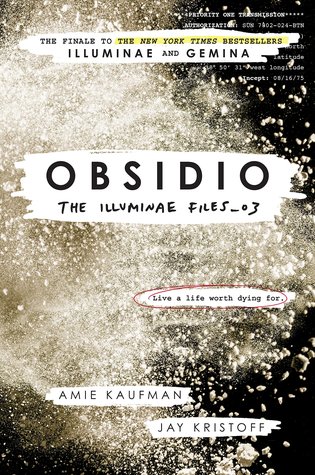 This week I'm spotlighting my first Sci-Fi Month read (and Fall Bookish Bingo read),
Obsidio (The Illuminae Files #3) by Amie Kaufman and Jay Kristoff
. I love this series and I'm enjoying the finale so far, but I don't know if I'm ready for it all to end yet.
Beginning
:
56
:
50/50 Friday: Best/ Worst Read In October
Worst
-
The Eleventh Plague by Jeff Hirsch
- I've read a lot of YA dystopian, but this novel didn't stand out in comparison to other examples of the genre.
Best
-
The Obelisk Gate (The Broken Earth #2) by N.K. Jemisin
- Easily the best sci-fi novel I've read all month, and the audiobook narrator does an awesome job.
What are you reading this week? Are you taking part in Sci-Fi Month this year? As always, thanks for visiting my blog and perhaps even commenting down below!