Happy Monday everyone! This year I've decided to take part in
Devour Your TBR which is hosted by Kathy @ Books and Munches and destiny
. Each month the Goodreads Group for the challenge dedicated to knocking out our ever growing TBRs comes up with a themed challenge. For March the theme was
Monstrous March
(all about creepy books, thrillers, horrors, and spooky reads) and I selected seven books which you can see in the photo above. Keep reading to see my thoughts on the five books I completed for March's challenge in the order that I read them, and also my potential TBR for
ContemporApril
(all about adult or YA contemporary novels).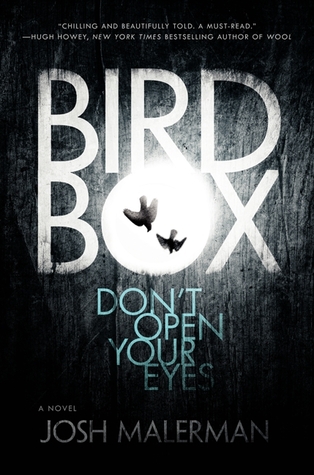 Wow! I was on the edge of my seat for that entire novel and I feel like I need to breathe into a paper bag now that I've finished it. I wish we had gotten a few more answer, but that was such a compelling thriller. I wouldn't say no to seeing more from the future of this world. Now I need to read more from Malerman and I need to watch the Netflix adaptation!
I read
Bird Box by Josh Malerman
from March 1 - 2, 2019 and my review is also on
Goodreads
.
Suspicious Minds
by Gwenda Bond is not nearly as good as the tv series, but it's still a solid prequel. But then again, the tv series does set an incredibly high bar, doesn't it? Anyway, this first prequel novel follows 11's mother as she undergoes experiments at the lab and up to the point where she gives birth to 11. I enjoyed getting to know Terry a little more in this novel especially while she's right in the middle of everything. I'm definitely interested in continuing this prequel series.
I read
Suspicious Minds by Gwenda Bond
from March 7 - 10, 2019 and my review is also on
Goodreads
.
Two Weeks' Notice
(
Revivalist
#2) by Rachel Caine is a fantastic sequel to
Working Stiff
. It's an addicting zombie urban fantasy novel that's absolutely perfect for fans of
iZombie
. It's great to be back with Brynn and to learn more about the tech behind the zombies, but the new characters and the epic twists make this better than the first installment. Rachel Caine is quickly becoming a new favorite author for me. I can't wait to read the finale to this series,
Terminated
.
I read
Two Weeks' Notice by Rachel Caine
from March 10 - 22, 2019 and my review is also on
Goodreads
.
Campfire
by Shawn Sarles has so much potential to be an awesomely terrifying YA horror novel in the vein of R.L. Stine and Christopher Pike, but unfortunately it never quite managed to live up to my expectations. It moves along quickly and there are a few decent thrills, but the characters are flatly forgettable - and the plot is too predictable for my tastes among other things. The horror genre is one of my favorites when it comes to books, movies, and tv and I'm pretty sure I've seen it all before.
I read
Campfire by Shawn Sarles
from March 21 - 23, 2019 and my review is also on
Goodreads
.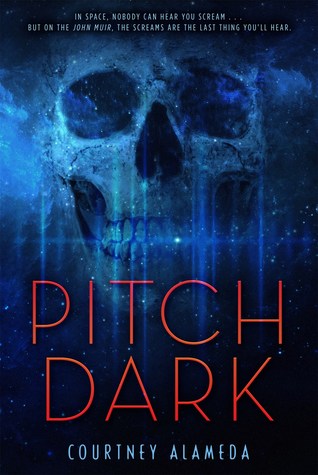 I don't know why I've been putting off
Pitch Dark
by Courtney Alameda. I mean, I absolutely loved her first novel and this sounded like it would be an awesome sophomore release. Luckily for me, this YA sci-hi horror story totally worked for me. I was immediately drawn into to the futuristic world of the Conquistador and the John Muir. There's so much detail and it's very visual - the world and the characters really pop off the page. I loved reading both Laura and Tuck's point of view chapters. Both of them have their own moments to really prove themselves, but the two make an even better team. Plus, they have really great banter which I can always appreciate. I also liked just how much Tuck's pop culture references worked in the story, even with those like Laura who are a few centuries out of step with Tuck - my favorite is easily the
Doctor Who
reference. Finally, if you haven't read Courtney Alameda yet what are you waiting for? I'm dying for
Seven Deadly Shadows
which she is co-writing with Valynne E. Maetani.
I read
Pitch Dark by Courtney Alameda
from March 24 - 31, 2019 and my review is also on
Goodreads
.
All the Rage by Courtney Summers
- I've heard a lot of great things about this, but I know it won't be an easy read - it will be a must-read.
Allegedly by Tiffany D. Jackson
- This sounds truly outstanding and I finally need to tackle this debut novel.
Ten Things I Hate About Me by Randa Abdel-Fattah
- I liked this author's earlier release called
Does My Head Look Big In This?
and it's about time I pick up this novel as well.
We Are Okay by Nina LaCour
- After reading
Everything Leads To You
as a part of
Book Riot's 2017 Read Harder Challenge
, I knew I needed to read everything from LaCour and it's about time I read her newest novel.
What If It's Us by Becky Albertalli & Adam Silvera
- I don't know if I can adequately express just how excited I am to read the newest novel of a couple of my favorite authors.
100 Sideways Miles by Andrew Smith
- Smith is one of my favorites and it's about time I pick up this 2014 release.
Congrats if you've made it this far! Have you read any of these books? If so, what did you think of them? As always, thanks for visiting my blog and perhaps even commenting down below!