On Friday's I take part in three weekly link ups - The Friday 56, hosted by Freda's Voice, Book Beginnings, hosted by Rose City Reader, and 50/50 Friday is a new weekly link up and it is hosted by Carrie @ The Butterfly Reader and Laura @ Blue Eye Books. For The Friday 56, you choose a book, a book you have just finished, a book you are about to start, your current read, and share a line or a few lines that grab you (but don't spoil anything) from page 56 or 56% of the way through the ebook. Post it and share your post's url on Freda's most recent Friday 56 post. As for Book Beginnings, you share the first sentence or so and your initial thoughts, impressions, or whatever else it inspires, and then link up your post's url with Rose City Reader. Then, for 50/50 Friday, every week there's a new topic featuring two sides of the same coin - you share a book that suits each category and link up on the hosts blogs.
This week I'm spotlighting one of my current Beat The Backlist 2019 reads,
The Seven-Per-Cent Solution: Being a Reprint from the Reminiscences of John H. Watson, M.D.(Nicholas Meyer Holmes Pastiches #1) by Nicholas Meyer
. I'm not all that far into this one yet, but I've got to admit I'm already loving Meyer's style!
Beginning:
Introductory
For many years it was my good fortune to witness, chronicle, and in some instances assist my friend, Mr. Sherlock Holmes, in a number of cases which were submitted to him in his unique capacity as a consulting detective.
56:
Standing beneath the only lamp on the street, Sherlock Holmes was smoking his pipe.
50/50 Friday: Character Most/Least Likely to Make a Personal Sacrifice

Most likely - Katniss Everdeen from
The Hunger Games by Suzanne Collins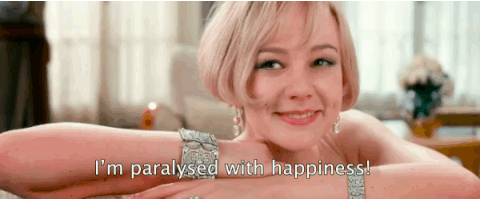 Least likely - Daisy Buchanan from
The Great Gatsby by F. Scott Fitzgerald
What are you reading this weekend? Have you read any of these books? As always thanks for visiting my blog and perhaps even commenting down below!