❋
❋
❋
❋
Children have always found a way to disappear - down a rabbit hole, through a wardrobe - only to emerge somewhere else. Sometimes these kids come back, magical lands don't need the kids who have been all used up. Nancy's one of those kids who disappeared, but had no choice but to return and her experiences have changed her. Eleanor West's Home for Wayward Children is a boarding school kids like Nancy get sent to in order to re-acclimatize themselves to our world, while hoping that someday they will find a way back to a door leading back to that other place. Around the time Nancy arrives at the school, though, darkness and danger is surrounding everything, and the students will have to unravel the mystery.
Every Heart a Doorway
by Seanan McGuire has an excellent premise that attracted me right from the moment I'd first heard of it, especially being a fan of classics like
Alice's Adventures in Wonderland
and
The Chronicles of Narnia
. Plus, I have to say it really made me think of "Xavier's School for Gifted Youngsters" from
X-Men
. I really enjoyed meeting the characters, who are a very diverse cast (and are refreshingly encouraged to keep an open mind and to not judge one another), and learning about their backgrounds and worlds. My favorite is easily Eleanor West, the headmistress herself - she's particularly awesome. This novel makes you feel all sorts of emotions right alongside her characters, and a lot of them involve heartbreak. I only had one real issue with this book, though, at times it was difficult to keep track of which perspective I was reading as it jumped around a bit. And, it does insult
Narnia
a bit which just isn't right.
Overall, I really enjoyed listening to this novel on audiobook, which has an excellent production with a great performance by Cynthia Hopkins. If you are a fan of fairy tales,
Narnia
,
Alice in Wonderland
,
X-Men
, or even
Miss Peregrine's Home for Peculiar Children
, you will most likely enjoy this creative and unique story about what happens when those travelers are forced to return to the "real" world.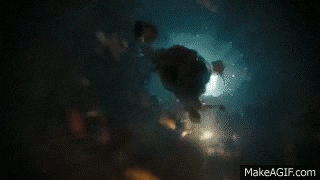 I listened to this audiobook from November 23 - 27, 2016 and my review is also on
Goodreads
.