The Friday 56 (With Book Beginnings): The Sword of Summer (Magnus Chase and the Gods of Asgard #1) by Rick Riordan + 50/50 Friday

These are the rules:
1. Grab a book, any book.
2. Turn to page 56, or 56% on your eReader.
3. Find any sentence (or a few, just don't spoil it) that grabs you.
4. Post it.
5. Add the URL to your post in the link on Freda's most recent Friday 56 post.
I'm also taking part in Book Beginnings, a weekly meme hosted by
Rose City Reader
. The rules are pretty simple - you share the first sentence or so and your initial thoughts, impressions, or whatever else it inspires. Don't forget to link up your post's url with Rose City Reader.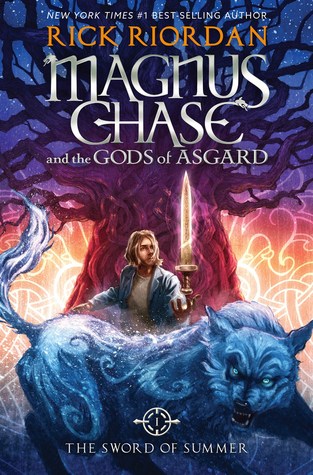 This week I'm spotlighting a book I'm just about to start,
The Sword of Summer (Magnus Chase and the Gods of Asgard #1) by Rick Riordan
. I'm really excited to start in on this novel - Rick Riordan's take on Norse mythology!
Without further ado:
Beginning:
Yeah, I know. You guys are going to read about how I died in agony, and you're going to be like, "Wow! That sounds cool, Magnus! Can I die in agony too?"
No. Just no.
56:
"Luggage," he repeated. "Do you have any?"
"Um..." I reached for my shoulder strap. My backpack had apparently not been resurrected with me. "No."
Hunding grunted. "No one brings luggage anymore. Don't they put
anything
on your funeral pyre?"
This week I'm also taking part in a brand new linkup called 50/50 Friday, which is hosted by
Carrie @ The Butterfly Reader
and
Laura @ Blue Eye Books
. Every week they'll have a new topic featuring two sides of the same coin - this week the topic is a sidekick who deserves a spinoff/ a sidekick who is better as a part of a group.
Deserves Spinoff:
Mr. Gray aka The Grey Man aka Dean Allen from
The Raven Cycle
by Maggie Stiefvater - I would have said Ronan Lynch, but it sounds like he will be getting a companion trilogy!! Otherwise, I would love to see the Grey Man before (and after) this series takes place.
Better as a Part of a Group:
Lying Cat (and/ or The Will) from
Saga
by Brian K. Vaughan and Fiona Watt - I can't imagine these two apart - they make such a good team! However, I wouldn't say no to a spinoff featuring both of these characters.