On Friday's I take part in three weekly link ups - The Friday 56, hosted by Freda's Voice, Book Beginnings, hosted by Rose City Reader, and 50/50 Friday is a new weekly link up and it is hosted by Carrie @ The Butterfly Reader and Laura @ Blue Eye Books. For The Friday 56, you choose a book, a book you have just finished, a book you are about to start, your current read, and share a line or a few lines that grab you (but don't spoil anything) from page 56 or 56% of the way through the ebook. Post it and share your post's url on Freda's most recent Friday 56 post. As for Book Beginnings, you share the first sentence or so and your initial thoughts, impressions, or whatever else it inspires, and then link up your post's url with Rose City Reader. Then, for 50/50 Friday, every week there's a new topic featuring two sides of the same coin - you share a book that suits each category and link up on the hosts blogs.
This week I'm spotlighting something a bit different - Fun With Your New Head by Thomas M. Disch. It's a collection of seventeen sci-fi short stories from 1968. I just happened to be browsing the shelves at Goodwill when I stumbled on this - that title and cover totally sold me!
Beginning: (From "The Roaches")
Miss Marcia Kenwell had a perfect horror of cockroaches. It was an altogether different horror than the one she felt, for instance, toward the color puce.
56: (From: "Descending")
Perhaps his most interesting theory was the notion that these escalators were a kind of exercise wheel, like those found in a squirrel cage, from which, because it was a closed system, there could be no escape.
50/50 Friday: Best/ Worst Christmas Themed Book (or book that's set during Christmas) - I'm going to change this prompt up a bit since I don't really read Christmas-y books, so I'm sharing movies instead.
Best - A Christmas Carol (1951) - There are so many different adaptations of this story, but this one featuring Alistair Sim is my all time favorite. I've already seen it three times this season!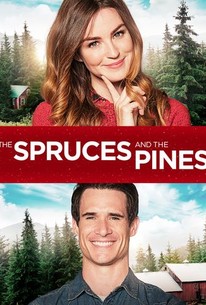 Worst - The Spruces and the Pines (2017) - I saw this tv movie on Ion a couple of weeks ago, and it was so irritatingly predictable. I mean, I called the ending (even to the minute it would happen onscreen) exactly within the first five minutes. And, overall the production quality didn't help matters either. I might have entertained myself by giving an MST3K style running commentary throughout. Honestly, I'm not even sure why I sat through it...
As always, thanks for visiting my blog and perhaps even commenting down below!