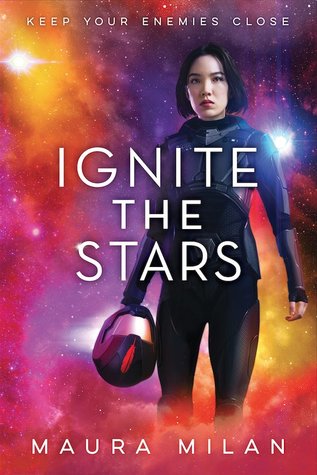 ❋
❋
❋
I received an ARC from NetGalley in exchange for an honest review.
Everyone in the universe knows the outlaw Ia Cocha and fears him. One thing they don't know is that Ia is actually a seventeen year old girl. In reality she is a top notch pilot and a criminal mastermind who has spent her entire life terrorizing the imperalist Commonwealth that destroyed her home. When Ia gets caught by the Commonwealth, they see the truth of her identity as an opportunity. They will force her to serve them and prove once and for all that no one beyond their control. Before long, Ia is stuck plotting her escape at a Commonwealth military academy. Her new acquaintances, though, Brinn and Knives, cause Ia to begin to question her own alliances.
Ignite the Stars
by Maura Milan is a YA sci-fi debut and promising series opener. I was really hoping to love it - I mean, the cover and the blurb definitely hooked me. While I liked it well enough, it didn't quite distinguish itself enough for me. There's a lot to like from Ia and Knives, exactly the sort of characters I like to read about, the fast pace, the action, and just how timely the story feels in terms of refugees. Overall, though, the way the story played out didn't impress me in part because it feels very familiar. I couldn't help but compare it to
The Lunar Chronicles
by Marissa Meyer and the
Starbound
series by Amie Kaufman and Meagan Spooner, but it never quite reaches those heights. In part, I think that's because there's not a whole lot of world-building. I usually like being thrown into the action right away, but I don't think we ended up with enough to make up for it later on. Looking back on it, I doubt I could go into much more detail about the setting aside from coming up with space or military academy. Finally, I wanted to mention the three perspectives used to tell the story - Ia, Knives, and Brinn. I preferred the Ia and Knives sections to Brinn by far. Brinn's perspective didn't flow as well as it could have and it bogged down the storytelling a little too much.
Overall,
Ignite the Stars
by Maura Milan is a decent YA sci-fi debut. I had really high expectations going in and it didn't quite live up to them. All things considered, though, it's a great first effort and I have a feeling the sequel could be truly great. I have a feeling you'll want to pick up Milan's new novel if you like Marissa Meyer and Amie Kaufman. Thanks again for this opportunity, NetGalley!
I read this ARC from August 28 - 29, 2018 and my review is also on
Goodreads
.
Ignite the Stars
(
Ignite the Stars
#1) by Maura Milan will be released on
September 4th, 2018
.