The Friday 56 (With Book Beginnings): My Life As A White Trash Zombie (White Trash Zombie #1) by Diana Rowland + 50/50 Friday
On Friday's I take part in three weekly link ups - The Friday 56, hosted by Freda's Voice, Book Beginnings, hosted by Rose City Reader, and 50/50 Friday is a new weekly link up and it is hosted by Carrie @ The Butterfly Reader and Laura @ Blue Eye Books. For The Friday 56, you choose a book, a book you have just finished, a book you are about to start, your current read, and share a line or a few lines that grab you (but don't spoil anything) from page 56 or 56% of the way through the ebook. Post it and share your post's url on Freda's most recent Friday 56 post. As for Book Beginnings, you share the first sentence or so and your initial thoughts, impressions, or whatever else it inspires, and then link up your post's url with Rose City Reader. Then, for 50/50 Friday, every week there's a new topic featuring two sides of the same coin - you share a book that suits each category and link up on the hosts blogs.
This week I'm spotlighting my third book of the Make Me Read It Readathon,
My Life as a White Trash Zombie (White Trash Zombie #1) by Diana Rowland
. I've heard a lot of great things about this urban fantasy series and I'm liking what I'm seeing so far.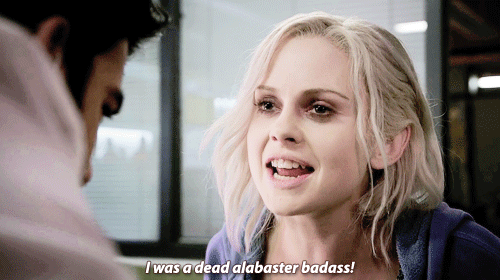 Beginning:
"You should be dead," the ER nurse stated as she adjusted something on my IV.
56:
But I'd been craving
brains
. The smell was like chocolate and cookies and biscuits and gravy and everything else that was delicious.
50/50 Friday: Favorite/ Least Favorite Summery Book
Least Favorite -
I Saw Zombies Eating Santa Claus by S.G. Browne
- I actually really liked this zombie Christmas book, but it just isn't summery book if you know what I mean.
The Great Gatsby by F. Scott Fitzgerald
- You have to admit, this classic is probably about the most Summery book out there with giant parties and everything.
What are you reading this weekend? Are you taking part in the Make Me Read It Readathon this year? As always thanks for visiting my blog and perhaps even commenting down below!