On Friday's I take part in three weekly link ups - The Friday 56, hosted by Freda's Voice, Book Beginnings, hosted by Rose City Reader, and 50/50 Friday is a new weekly link up and it is hosted by Carrie @ The Butterfly Reader and Laura @ Blue Eye Books. For The Friday 56, you choose a book, a book you have just finished, a book you are about to start, your current read, and share a line or a few lines that grab you (but don't spoil anything) from page 56 or 56% of the way through the ebook. Post it and share your post's url on Freda's most recent Friday 56 post. As for Book Beginnings, you share the first sentence or so and your initial thoughts, impressions, or whatever else it inspires, and then link up your post's url with Rose City Reader. Then, for 50/50 Friday, every week there's a new topic featuring two sides of the same coin - you share a book that suits each category and link up on the hosts blogs.
This week I'm spotlighting one of my current Winter Bookish Bingo reads (it will fulfill the author of color square), Akata Witch (Akata Witch #1) by Nnedi Okorafor. I loved getting to know Okorafor's style in Who Fears Death and I'm loving this YA fantasy series opener.
Beginning:
I've always been fascinated by candles. Looking into the flame calms me down.
56:
"What's wrong with that guy?" She went to lean against a nearby tree, feeling nauseous, tired, and irritable. Not a good combination.
50/50 Friday: Best/ Worst Reads of 2018
Best -
Nothing But Sky by Amy Trueblood
- This is always such a difficult decision, but this year I'm focusing on my favorite 2018 YA Debut novel. I couldn't have asked for anything better from this historical fiction about a barnstorming team.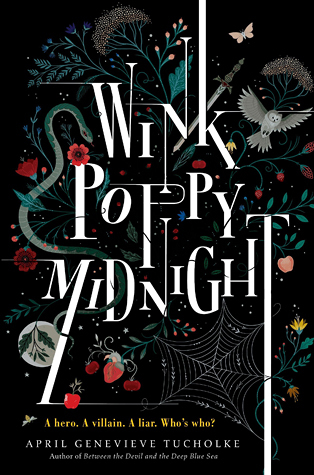 Worst -
Wink, Poppy, Midnight by April Genevieve Tulcholke
- I'd seen a lot of middling to negative reviews for this, but I honestly didn't expect it to be quite so irritating - the characters really got on my nerves. At least the cover design is outstanding. This may not be the worst, but it was the most annoying anyway!